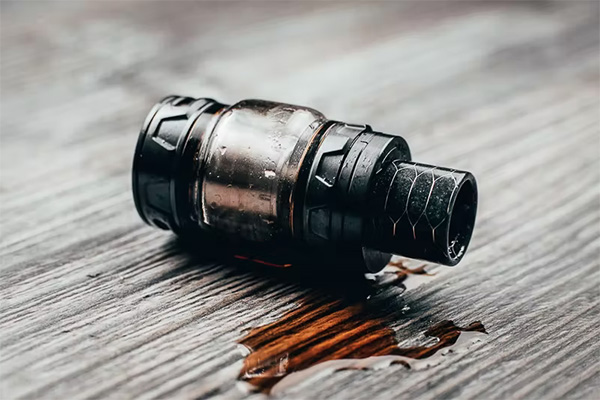 Overview
Why does my e-cigarette leak into my mouth?
Is smoking the juice of e-cigarettes harmful in your mouth?
How can I avoid inhaling e-cigarette juice?
From chocolate to cola ice, e-cigarettes have many exciting flavors for you to enjoy wonderful taste and wonderful smell. However, whether you are a complete novice or an experienced veteran, you may be upset by the vape juice leaked from the e-cigarette. How to solve this problem? The editor gives you a few tips.
Vape juice should be inhaled in the form of steam, it is definitely not correct to drink it directly in liquid form. This may cause your e-cigarette coil to burn irretrievably. Moreover, when smoking e-cigarettes, the juice leaks into your mouth. Some of the leaks are as small as a few drops, but in severe cases it may be as much as the entire water tank, which seriously affects your smoking experience.
Why does my e-cigarette leak into my mouth?
This may be the result of a hardware problem with your e-cigarette, or it may just be a problem with the way you smoke. The good news is that this problem can usually be solved. If you suspect that your e-cigarette often leaks, you must find the reason, because over time, it may be harmful to you and your e-cigarette.
Is smoking the juice of e-cigarettes harmful in your mouth?
The taste of e-juice is not good, and its taste and nicotine content are highly concentrated when it is liquid. Ingesting large amounts of nicotine in a short period of time can cause dizziness, nausea and dizziness. The e-juice is designed to allow you to enjoy the entire vaporization process, so it is best to start troubleshooting as soon as you feel a leak in the vape. The sooner you find the source of the problem, the less likely it is to spend time and money to replace the e-cigarette or any damaged parts.
How to avoid e-cigarette oil leakage?
1. Install correctly
You may think this sounds obvious, but many leaky e-cigarettes boil down to loose components in the e-cigarette. Taking the time to ensure that your fuel tanks are properly secured together will ensure that you have a smooth e-cigarette experience without leakage. If you are in a hurry to assemble the e-cigarette together, you may tighten the top cover or screw it not tight enough, so please take the time to do it correctly, you will thank yourself later!
2. Stay upright
Not every fuel tank can be placed on its side for a long time, so make sure to stand it upright when you are not using the e-cigarette. This may be at night or while you are working. The fuel tank placed on the side will cause the smoke oil to leak into the exhaust system, so please develop the habit of standing upright to avoid unnecessary leakage.
3. Clean the chimney
Every vape tank has a "chimney", which is a central airflow tube that extends from the tank body to the dripper. E-liquid tends to collect unknowingly in the chimney and may leak if not cleared immediately. To solve this problem, please make sure to clean the chimney with a paper towel before smoking to keep the chimney clean.
4. Is your O-ring damaged?
Many common causes of leaks are O-rings. If your O-ring is worn, damaged, or even lost in some cases, this may cause leakage and damage to the e-cigarette device. If you suspect that there may be a problem with your e-cigarette, please disassemble your device, remove the O-rings and check them carefully. If you notice any signs of wear, it's time to replace the O-ring!
5. Don't fill it too full
It seems obvious, but overfilling the gas tank is the perfect secret to cause the vape to leak! Always leave a small air bag at the top when filling, as this empty space will help prevent any liquid leakage.
6. Close the lid
It is important to keep the top cap on the vape at all times. If you do not open the lid, your e-cigarette liquid will leak out from the air flow hole. If you do plan to remove the top cover from the e-cigarette for a long time, please make sure that there is no e-liquid in your fuel tank! It will also help if you also turn off the airflow, but this is not guaranteed to work!
7. Stay slow and steady
In some cases, leaking e-cigarettes may be related to your e-cigarette style, especially if you are new to e-cigarettes! Make sure you inhale slowly and steadily, not quickly and violently. When you inhale sharply on the vape, you may draw the liquid into the coil housing faster than it evaporates. This will allow you to inhale some excess liquid through the center tube or chimney-and may cause leakage.
8. Check your tank
Check your water tank for any damage or cracks, as fine cracks or damaged metal may mean that your device is no longer sealed. If this happens, the e-liquid will easily leak out of your device and enter unwanted chambers, such as airflow. If your glass breaks, purchasing a replacement is usually a cheap and simple solution.
9. Replace the coil
Although most coils are very safe to use, there will always be a bad batch in a pile, and you may find that your coil has minor manufacturing issues that may cause leakage. To solve this problem, just replace your coil. Fortunately, we offer a large number of economical coils on Zombie Vapes. Before replacing the coil, you must ensure that the coil head is screwed in correctly. If you have already done this and the problem persists, then the leak may boil down to one of the other problems we mentioned here!
10. Choose the right e-liquid
When buying a vape, you may not realize that certain devices are best for certain e-liquids. For example, coil heads that require a lot of power are often best suited for electronic juices with high VG. In this case, anything below 70% VG may leak from the equipment due to the low viscosity of PG. A good trick to remember is that sub-ohm type devices perform well at 70% VG (30% PG only) and above, while standard MTL devices work best with any e-liquid containing up to 70% VG . Be sure to check your e-liquid label to determine the PG/VG ratio before use.
----Edited by Jessica