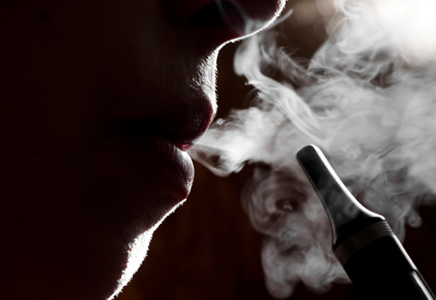 When it comes to cigarettes that are harmful to our health, it is a word that everyone is familiar with, and there are many people around who have the habit of smoking. Everyone knows that the impact of cigarettes on our body is very great, and if you become addicted to smoking, it is very difficult to quit. There are many harmful substances in cigarettes that are harmful to our bodies. In particular, it will affect our lungs. If people smoke for a long time, their lungs will turn black, and lung cancer will appear over time.
For many, electronic cigarettes (e-cigarettes) are considered a safe alternative to traditional cigarettes and have revolutionized the tobacco industry over the past few decades. In e-cigarettes, tobacco combustion is replaced by the heating of e-liquid, leading some manufacturers to suggest that e-cigarettes are less harmful to the respiratory system than tobacco consumption. Other innovative features such as adjusting the nicotine level and choosing a pleasing flavor have won the hearts of many users. Nonetheless, the safety of e-cigarette consumption and its potential as a smoking cessation method remains controversial due to limited evidence. So what effects do vapes have on us physically and mentally? In this guide, we'll discuss that.
Harmless or Harmful?
---
I think most people are curious about this question. Vapes are popular among teens and young adults. The CDC reports that 19.6 percent of high school students and 4.7 percent of middle school students currently use vape pens. Many reported using it daily, and more than half of students reported using flavored vapes. Some of the fragrances used can be harmful when heated and inhaled in aerosol form. Social or peer pressure has been reported to be one of the most common reasons for increased use by teens. Marketing tactics and misinformation on social media deceive the public into using nicotine-containing products.
Vape products are considered safe and harmless alternatives to combustible cigarettes. However, e-cigarette aerosols are not harmless. They may contain potentially harmful substances, including heavy metals, and inhalation of ultrafine particles is known to cause lung damage. Although there is no tar, carbon monoxide and other substances, don't forget that nicotine is still there. When nicotine is inhaled into the lungs, it activates receptors in the brain to release dopamine, a substance that increases pleasure. However, this feeling of pleasure does not last long. When the nicotine is decomposed, the level of dopamine drops and the smoker will experience symptoms such as anxiety, irritability, headache, and nausea.
What are the effects of vaping on the body?
---
Vaping hasn't been around long enough for us to understand how it affects the body over time. But health experts have reported severe lung damage in people who vape, including some deaths. Vaping puts nicotine into the body, Nicotine is highly addictive. What does vaping do to your brain?
Adolescent brains develop slowly, affecting memory, concentration, learning, self-control, concentration, and mood

Increased risk of other types of addiction later in life
Electronic cigarettes also include:
stimulate the lungs

May cause lung damage or even death

May lead to smoking and other forms of tobacco use

Some people use e-cigarettes to smoke marijuana, THC oil, and other dangerous chemicals. In addition to irritating the lungs, these drugs can also affect how people think, behave and feel
How does vaping affect your mental health?
---
Although nicotine has not been found to directly contribute to mental health conditions, peer-reviewed research has shown a disturbing link between e-cigarettes, nicotine, and worsening symptoms of depression and anxiety, as well as higher odds of being diagnosed with depression. Please see three aspects of the psychological impact of vapes on us.
(1)Do e-cigarettes cause depression and anxiety?
According to a 2019 JAMA study of nearly 30,000 current e-cigarette users over the age of 18, frequent e-cigarette use was associated with a higher (2.4 times higher) odds of being diagnosed with depression than those who never vaped. The study also showed that compared with never users who never reported poor mental health, In the past month, current vapers were 1.67 times more likely to report at least one day of poor mental health, and former vapers were 1.52 times more likely to report healthy. The researchers also believe that trace metals in e-cigarette liquids may play a role in the potential link between e-cigarettes and depression.
(2)Does vaping make you depressed?
Those who used e-cigarettes more frequently were associated with higher depressive symptoms, according to a 2017 study of nearly 2,500 ninth-graders in Los Angeles who had never used e-cigarettes or combustible tobacco before.
(3)Can e-cigarettes cause ADHD?
A 2019 study of U.S. college students found that vaping was significantly associated with higher levels of ADHD symptoms, and nicotine dependence was associated with more severe anxiety symptoms.
It is critical to prevent teens and young adults from vaping or smoking and to help those addicted to quit smoking as soon as possible. Quitting smoking not only eliminates nicotine addiction and reduces the health risks associated with tobacco use, but also improves mental health.

What are the benefits of vaping in moderation?
---
Since the vape entered the market, there has been a lot of controversy surrounding it. You may hear your friends and family have different opinions on this. Unfortunately, most of these opinions are just rumors without any evidence to back them up with proper research. Smoking is indeed harmful to the body, but vaping in moderation is more beneficial to health than smoking.
(1)It is safer than cigarettes
Vape and e-cigarettes are safer than cigarettes for your health and the environment. When you smoke, the tar it produces can cause irreparable damage to your lungs. The amount of nicotine you get from a single cigarette comes at the cost of your lungs and huge environmental impact. So before you believe something, make sure you do your research and check the difference. It will help you to make the right decisions.
(2)You Can Control Your Nicotine Intake
The best part about vape is that you can control how much nicotine intake you need. Unlike cigarettes, you can easily reduce your intake and reduce your nicotine content at your own discretion. If you are concerned about your dependence on cigarettes and trying to quit smoking permanently, this is definitely good news for your health. All you have to do is set goals and follow them.
(3)It has no harmful smell
Cigarettes produce an odor that most people find unpleasant. It can make some people very sick, not to mention the dangers of passive smoking. If you or those around you can't stand the smell of cigarettes, it's worth choosing a vape over cigarettes. Best of all, vape juices come in a wide variety of flavors. Not only can you get rid of bad odors, but you can also replace them with your favorite ones.
(4)Great choice for long-term smokers

Every addiction is bad and the addict struggles. Being addicted to cigarettes is no different, and can be difficult to overcome for a number of reasons. But if you've tried quitting and still haven't been successful, switching to e-cigarettes is your ultimate healthy and practical solution to quitting.
(5)You can control the steam output
Just like nicotine, you can control your vaping output. This means you have full control over the amount of steam you want to exhale. All you have to do is choose the right e-cigarette. If you don't know how it works, you can ask your buyer everything you need to know.