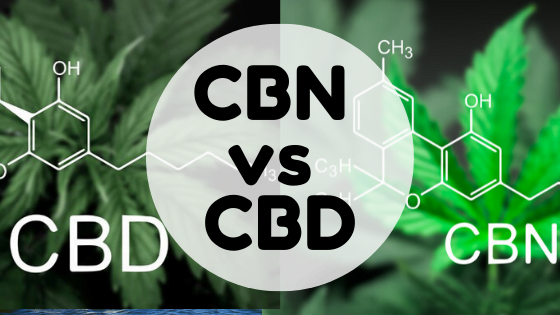 Cannabidiol (CBD) is one of more than 400 natural ingredients in the cannabis plant. Although CBD comes from the hemp plant, it does not give you high/spiritual effects. Compared with CBD, THC is more exciting.
The cannabinoids THC (tetrahydrocannabinol) and CBD (cannabidiol) are two kinds of people who pay more attention to, but people know very little about CBN.
CBN (cannabinol) is also a cannabinoid in the cannabis plant. It is a compound unique to marijuana and one of the first cannabinoids discovered, and it has no psychoactive properties. CBN is produced because THC degrades when exposed to oxygen or high temperature. Since CBN is a degradation product, fresh hemp plants usually contain very little content and high production time cost, so the market price is higher, almost 6 times that of CBD.
What is the difference between CBD and CBN?
CBD is more popular than CBN. It mainly comes from the cannabis plant and is legally consumed. But the laws of each place are different. You can find CBD-infused products from grocery stores to gas stations. It is found in a variety of beauty and food products, such as oils, shampoos, creams, pills, and chocolate. People often use it to help control anxiety, insomnia, and a series of symptoms of chronic pain and other diseases.
On the other hand, CBN is not so popular or easily available. This is because a large number of human or animal studies on benefits, uses, and side effects have not been conducted. However, CBN is gradually gaining popularity due to its potential benefits for sleep and pain management.
What are the similarities between CBD and CBN?
In fact, the similarities between CBD and CBN are mainly reflected in the medical value. Mainly as below:
1. Calm and help sleep
CBD and CBN both have a sleeping and sedative effect and have shown promise as a natural substitute for people suffering from sleep apnea, severe insomnia, or other sleep disorders.
Especially CBN, According to research by Steep Hill Labs, only 5 mg of CBN is equivalent to taking 10 mg of diazepam (also known as Valium, a prescription drug for the treatment of anxiety and insomnia).
2. Relieve pain
CBN can also solve pain sensitivity by activating the release of peptides from sensory nerves, which can relieve pain without affecting CB1 and CB2 receptors, which means that CBN and CBD can have a better synergistic effect and obtain greater pain relief Effect.
3. Glaucoma
When administered locally, they can help significantly reduce intraocular pressure, which is the main cause of glaucoma. Studies have shown that CBD and CBN can effectively reduce the risk of glaucoma and prevent its development.
We made a table to summarize the difference and similarities in CBD and CBN, please check:
Subject

CBD

CBN

Source

An ingredient of fresh hemp

Produced because THC degrades when exposed to oxygen or high temperature




Practicality

Popular

Rare

Excitability

NO

A little bit(Much lighter than THC)

Price

1624$/kg

10000$/kg(6 times of CBD)

Application

Calm and help sleep

Relieve pain

Glaucoma

Calm and help sleep

Relieve pain

Glaucoma
What is the relationship between CBD and e-cigarettes?
CBD can be consumed by the body in many ways, such as taking it by mouth, inhaling cannabis vapor or smoke, or spraying it on the face as an aerosol spray. It is usually provided as a cannabis extract oil composed only of CBD. CBN has not been widely used due to its high price.
CBD e-cigarette refers to electronic equipment that evaporates CBD e-cigarette oil through atomization equipment. The basic principle of nicotine e-cigarettes is the same as that of traditional e-cigarettes. The difference lies in the effect of vaporized and atomized smoke. Nicotine is not good for the health of smokers, but CBD e-liquid does not contain nicotine and is known as an excellent way to try to quit smoking in some areas.
Global CBD sales market ranking forecast In the survey of the CBD market distribution in the e-cigarette market, the sales in the United States, Canada, and the United Kingdom are relatively high, and the sales of CBD e-cigarettes in China are prohibited. With the boom in manufacturing CBD atomizers for the United States, Chinese e-cigarette factories have even shipped more than nicotine products in the past two years.
Suntech is an OEM/ODM-based e-cigarette factory. If you want to find a CBD e-cigarette factory, please feel free to contact us and we will be happy to provide you with services.
----Edit by Jessica