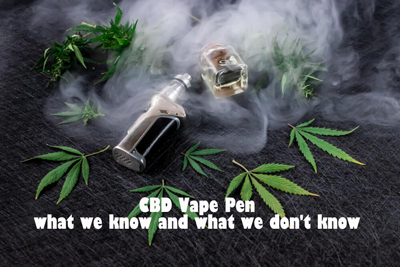 Contents
What is CBD?

What is CBD Vape Juice?

What are the benefits of CBD Vape Oil?

What are the side effects of CBD?

What CBD dosage is the safest and appropriate?

How to Find the Best CBD Dose for You?

Does smoking CBD oil get you high?

How to Choose a Vape Pen and Formula?

CBD Vape Pen - What We Don't Know?

Conclusion
1. What is CBD?
---
Cannabidiol (CBD) is a compound derived from cannabis. CBD is classified as a cannabinoid, and there are more than 100 other cannabinoids found in plants. Each has different properties, but CBD is one of the most popular. Unlike tetrahydrocannabinol (THC), CBD does not produce high concentrations. People use CBD in a variety of ways for its potential therapeutic benefits, which may include: pain relief, anti-inflammatory, anti-anxiety, seizure and epilepsy treatment.
2. What is CBD Vape Juice?
---
It's easy to deduce what a CBD e-liquid is, literally. That's right, it's a CBD-infused e-liquid.
Also known as CBD e-liquid or CBD e-oil, it is intended for use in vaping devices. Almost all types of vape devices can be used with CBD e-liquids.
When the coil of the vape device heats the CBD e-liquid to a specific temperature, it changes from liquid to vapor. The steam then flows out of the mouthpiece of the device, which is how CBD is snorted.
3.What are the benefits of CBD Vape Oil?
---
Whether it's mental, spiritual, or CBD e-liquid, it's different for everyone. However, that doesn't mean there are no benefits to vaping. If you choose to use CBD oil, here are some notable advantages.
(1). CBD can relieve pain
A study evaluated the effects of cannabis-based medication on chronic neuropathic pain in adults. The researchers believe that the potential benefits of cannabis-based drugs may outweigh their potential harms.
The study focused primarily on CBD, but explored the effects of herbal cannabis, plant-derived or synthetic THC, and THC and CBD oral mucosal sprays. The researchers concluded that some people with chronic nerve pain would benefit from long-term use of marijuana medications.
(2). CBD relieves anxiety
Researchers have demonstrated that research supports the effects of CBD as a treatment: generalized anxiety disorder; panic disorder; social anxiety disorder; obsessive-compulsive disorder; post-traumatic stress disorder, and more.
The effects of acute administration (short-term or one-time doses) are evident. But researchers aren't sure about the effects of long-term (long-term, low-dose) use.
(3). CBD e-liquids can improve the overall experience by flavoring.
At times, the taste of CBD foods and tinctures can be unacceptable, especially for newbies. Not so with CBD vape juices. You'll choose a more palatable experience with multiple flavor options for everyone.
(4). You can enjoy CBD e-liquid anytime, anywhere.
If you're looking for an easier way to get your CBD, try e-cigarettes. All you need is a simple vape device and your favorite CBD vape juice. In addition to being small and portable, vaping CBD is highly discrete.
(5). CBD vape oil is affordable.
Just like standard e-liquids, CBD e-liquids come in different prices. If you're on a tight budget, you can opt for an affordable CBD vape juice, or when you want to experience the best, you can buy a premium CBD vape juice. Everyone will get a choice that you are happy with.
4. What are the side effects of CBD?
---
Research on the side effects of CBD is still in its infancy. CBD can increase blood levels of hemodilution and other drugs by competing with liver enzymes that break down drugs.
CBD side effects include nausea, fatigue, and irritability. Mild drowsiness is also one of the more common side effects. This is more common among first-time users and can subside with regular use.
This drowsiness is often caused by high doses of CBD, while low to moderate doses can actually have the opposite effect. People taking high doses of CBD may experience abnormalities in liver-related blood tests. If you use CBD regularly, you should let your doctor know. Other side effects observed were mild euphoria, hunger and red eye. The side effects of CBD tend to be less pronounced than many prescription drugs.
A significant safety concern with CBD is that it is primarily marketed and sold as a supplement rather than a drug. Currently, the FDA has no clear rules regarding the safety and purity of dietary supplements. Therefore, you cannot be sure if the product you are buying contains the active ingredient in the dosage listed on the label. Even more worrying is whether the product contains other unknown elements. We also don't know what the most effective therapeutic dose of CBD is for any particular disease.
5. What CBD dosage is the safest and appropriate?
---
It should be understood that there is no uniform CBD dosage. Symptoms of treatment, body weight, and tolerance all affect how well CBD works. In addition, everyone's metabolism and endocannabinoid system are slightly different, and there are individual differences.
A typical CBD vape cartridge containing 100 mg of CBD delivers about 1-2 mg of CBD per puff. If you're using a CBD vape pen or tank, you'll absorb more CBD per puff, depending on your device and the strength of the CBD vape juice.
6. How to Find the Best CBD Dose for You?
---
The best way is to start with a low dose and gradually increase it. Start with the smallest dose, 1 to 2 mg of CBD and wait about six hours until your next dose. Gradually increase the dose by 5 mg. Watch closely how it feels after each use. If your experience is comfortable and positive, lock in this dose and continue to maintain this dose.
7. Does smoking CBD oil get you high?
---
No, smoking CBD won't get you high unless it comes from marijuana that contains THC (THC — the psychoactive chemical that creates a high, euphoric effect). Once extracted from hemp or hemp, CBD can be added to a variety of products, including tinctures, lotions, and oils. Most of the CBD used in e-cigarettes comes from industrial hemp. It contains trace amounts of THC (up to 0.3%), not enough to get you excited. For those concerned about failing a drug test, there are many THC-free CBD e-liquids.
Additionally, CBD can actually moderate the high concentrations of THC produced by preventing your body from breaking it down completely. If you find yourself "too high," take CBD oil for anxiety. It helps balance you out and also reduces paranoia caused by THC.
This chart is for a reference and a recommendation only.
8. How to Choose a Vape Pen and Formula?
---
When choosing vape pens and formulations for CBD e-cigarettes, you should buy from reliable sources. If you're not getting CBD from a trusted source, you can't really know what you're getting. To make matters worse, some of them contain synthetic chemicals and pollutants that can cause users to get high in a very uncomfortable way.
There are many vape pens and formulas available for purchase. Choosing the right e-cigarette is a challenging task due to the lack of evidence to support the use of e-cigarette CBD for medical purposes. We are fortunate to have many CBD brands to choose from that are under strict quality control. If you need some advice on your selection needs, please contact us, we can provide active assistance and professional advice.
If you are new to vaping, please refer to our recommendations. 20 Best Convenient Vape Device For 2022
9. CBD Vape Pen - What We Don't Know?
---
- What happens if you continue to take CBD daily?
- How do different consumption patterns affect intake (eg, oral, topical, smoking, or e-cigarettes)?
- What are the effects of CBD on the developing brain (eg, children taking CBD)?
- What are the effects of CBD on a developing fetus or a breastfed newborn?
- How does CBD interact with herbs and other botanical materials?
- Does CBD cause male reproductive toxicity in humans as reported in animal studies?
10. Conclusion
---
If you're concerned about how CBD vape juice will affect you, for starters, you won't be thrilled. As with all CBD products, the legality of CBD vape juice is in a gray area. But as a safety precaution, as long as e-juice CBD oil comes from hemp and has a THC content of 0.3% or less, you can start using it.
You'll also want to check your state's laws regarding CBD use before making any purchases to verify that your product meets legal thresholds.