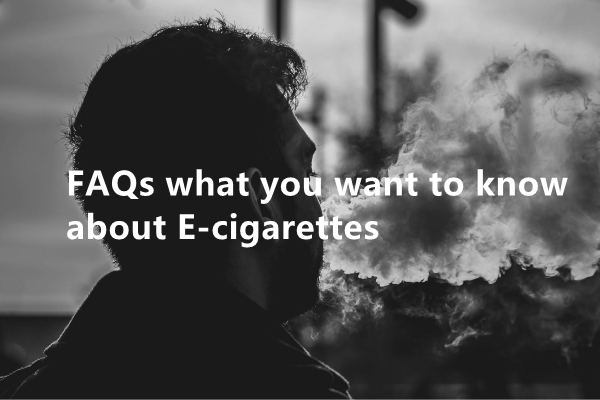 Question 1. What is an electronic cigarette or electronic cigarette product?
---
E-cigarettes are electronic devices that heat a liquid and produce an aerosol or a mixture of small particles in the air.
E-cigarettes come in many shapes and sizes. Most have batteries, heating elements and places to store liquids.
Electronic cigarettes go by many different names. They are sometimes called "e-cigs," "vapes" "vox vapes".
Question 2. How do electronic cigarettes work?
---
E-cigarettes create aerosols by heating a liquid that typically contains nicotine, flavorings and other chemicals that help create aerosols.

The liquids used in e-cigarettes often contain nicotine and flavorings. This liquid is sometimes called "e-juice," or "e-liquid."
The user inhales the e-cigarette aerosol into the lungs. Bystanders can also inhale this aerosol when the user exhales it into the air.
Question 3. Is nicotine dangerous?
---
Nicotine does not cause smoking-related diseases, such as cancer and heart disease, but it can be addictive. However, there is a common misconception that you can overdose on nicotine using e-cigarettes. But you are not at risk of poisoning, nor any overdose from inhaling the nicotine-containing liquid vaporized by e-cigarettes. Therefore, you can use e-cigarettes as often as needed to help manage nicotine withdrawal and urge to smoke.

Much like nicotine replacement therapy, if you do get more nicotine than you're used to, you may feel a little nauseous or lightheaded, both of which will go away quickly. If this happens, simply lower the nicotine content in the e-liquid you buy, or cut back on your e-cigarette use.
Question 4. Which is Better MTL or DTL When Vaping?
---
MTL means when you inhale from an e-cigarette, suck the vapor into your mouth for a moment. It is then inhaled into the lungs, and it's used in basically the same way as cigarettes.
DTL goes directly into the lungs, which is slightly more complicated, which is why it is more popular with intermediate and advanced e-cigarette users. Inhaling an e-cigarette directly into the lungs involves inhaling the vapor directly into the lungs without having to stop and hold it in your mouth.
We generally recommend that novices choose the MTL device because the device is simple and the inhalation method is similar to a cigarette, making it more natural for users to go from smoking to excessive use of e-cigarettes. It is more recommended for users who like big smoke to use DTL equipment, DTL can produce more significant smoke. Whichever vaping method you choose will depend on your personal preferences.
Question 5. What is VG, PG?
---
Vape juices can often contain VG or PG in varying proportions.

VG is a completely non-toxic, colorless, odorless liquid that is safe to inhale. It's a completely plant-based product that can be processed from most fats, and the glycerin used in e-liquid comes from vegetable oils, which is why it's called vegetable glycerin.
Many common products contain VG. It is used in the food industry as a sweetener and is also added to some foods to keep them moist. VG is also a component of many different types of medications, and studies have been published on long-term effects.
PG is one of the main components of e-liquid. PG is an alcohol, and like VG, it is also almost tasteless. It's added to foods, medicines, and other products to keep them moist.
PG in vape juice is a product that is easy to ingest, apply to the product and use in vape juice. PG also enhances the flavor and leaves a stronger taste in the back of the throat. PG is much less dense than VG and poses no health risk to humans.
Another use of PG is in antifreeze. Some people say that e-juice contains antifreeze. In fact, PG is only a small ingredient in products such as antifreeze.
Question 6. Will electronic cigarettes produce harmful chemicals or explode?
---
Some studies have found that chemicals in e-cigarette vapor can cause health problems. But these studies tended to use artificial conditions, and when high-quality e-cigarettes are used normally, far fewer harmful chemicals are present in the vapor than in tobacco smoke. If the e-liquid overheats, it tends to develop a spicy, unpleasant taste - and you'll know if that happens.
As with any rechargeable device, such as cell phones and laptops, it's important to charge your e-cigarette with the correct charger and not leave it unattended while charging. Make sure you buy from a reputable supplier and avoid generic charging equipment. There have been reports of fires caused by e-cigarettes, but far fewer than cigarettes, the most common cause of fatal house fires.
Question 7. Can I smoke and e-cigarettes at the same time?
---
There is no evidence that smoking and vaping at the same time is worse than smoking. However, the greatest health benefits are seen when people quit smoking completely, so quitting should be the goal.

Some people manage to switch to vaping quickly and completely, while others take a little time. You may need to try many different e-cigarettes and e-liquids before finding one that can help you quit smoking completely, but that's normal.
Question 8. Can e-cigarettes help smokers quit smoking?
---
The study found that people who used e-cigarettes to quit smoking had far higher success rates than those who tried products such as quit patches or nicotine gum. E-cigarettes use the principles of nicotine replacement therapy to help achieve smoking cessation. It doesn't burn, it doesn't contain chemicals like tar, and it doesn't contain the carcinogens found in regular cigarettes.
E-cigarettes use the world's most common form of nicotine replacement therapy, which is the gradual reduction of smokers' nicotine inhalation. However, even the highest concentration of nicotine is only 1/3 the content of regular cigarettes, so that dependence on e-cigarettes can be avoided. According to incomplete statistics, e-cigarettes should be the product with the highest success rate of smoking cessation among the various products of nicotine replacement therapy. In addition to using nicotine replacement therapy, one of the biggest advantages of e-cigarettes is that they do not change the habitual behavior of smokers. This is important because a large proportion of smokers are unable to break free from this habit, which has resulted in them being unable to successfully quit smoking.
If you have any other questions you want to consult or understand, please feel free to contact us. VAPIN focuses on OEM and ODM, your best choice for OEM and ODM factories. We provide many types and flavors of electronic cigarette pens, and there is always a product you like.