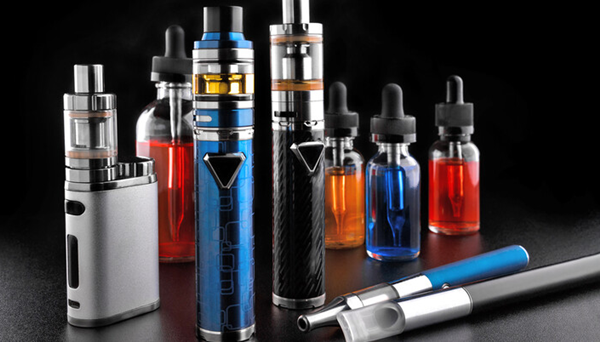 There are various reasons that lead you to start vaping, maybe you are trying to quit smoking , or you want to taste the beautiful flavors, or you have been attracted by the cool vaping player. For whatever reason, if you have decided to start vaping and want to get an comprehensive understanding about vaping, this article will be your best guide!
4. Choose Your First Vaping Device
What is Vaping?
Vaping means to heat the e-liquid through the electronic device to generate vape so that to taste kinds of flavors and get nicotine. The working principle is similar to the water evaporation process. According to the temperature of electronic cigarettes and your preference, the vape juice is heated to a specific temperature from 90℃ to 200℃, then the liquid vape juice in the cartridge turns into vapor like smoke. Inhale and exhale the steam, and then you can feel the great flavor and nicotine boost.
Introduction to parts of vape device:

(1) E-liquid:
Ingestion of nicotine stimulates the brain to secrete a chemical called dopamine, which induces pleasant feelings. Nicotine is an addictive substance. If you are trying to quit smoking, it is recommended to choose e-cigarettes with low nicotine content.
(2) Battery:


Is Vaping Safe?
There are about 600 components in conventional tobacco cigarettes, and more than 7,000 chemicals are produced when burned. Of these produced chemicals, at least 69 kinds are known to increase the chance of developing cancer, and many of them are toxic. Public Health England and other health institutions have stated that vaping can reduce 95% harm than smoking. And they also said those who use e-cigarette had significantly lower urea levels than tobacco cigarette smokers.
Vaping can also produce some harmful substances, but they are much less harmful than tobacco burning. A study from CANCER RESEARCH UK shows that the harmful chemicals generated by electronic vape devices are far less than tobacco cigarettes.
Though e-cigarette is safer than conventional cigarette, there are also things you can do to ensure a high-quality vaping experience. ①Use a suitable charger to charge the battery, remove the battery as soon as possible after charging, and store the battery separately to avoid short circuit damage to the battery. ②Store vape juice in cool and dark places and stay them out of children and animals. ③Those who are allergic to PG, please consult your doctor before using e-cigarettes, or choosing to vapes that don't contain PG.


Types of Vape Device
CIG-A-LIKES: Cig-A-Like is an e-cig that looks like a tobacco cigarette which is one of the earliest electronic cigarettes. It has a slender rod like tobacco, which imitates smoking not only in feel but also in behavior, making it easy for traditional smokers to accept, thus opening the market for electronic cigarettes. Cig-a-like only have two parts: cartridges and a combined atomizer and battery. This is perfect for the vaping beginner who starts to quit tobacco smoking.
VAPE PENS&PODS: Vape pen and vape pod are actually the same devices except for the difference in appearance. A vape pen is a small and portable device with pre-filled e juice. They can be divided into disposable vape pens and rechargeable vape pods. Both the disposable and rechargeable models are ideal for beginners to choose their starter devices since they are easy to use and stylish, and you don't have to replace coils and refill vape oil.
VAPE MODS: Vape mode (or vape box) is a more advanced vaporizer for experienced vape users. It has a bigger battery and coil to produce a large amount of vapor over a long period of time. A set of mod contains the standard clearomizer, atomizer, battery, and mouthpiece. Due to it contains more components, and the components support customization to meet personal needs, it is suitable for advanced vapors players.
Choose Your First Vaping Device
For new beginners to vaping, we suggest you to choose the disposable vape pen or the easy rechargeable vape pod device. Beside this, you have to consider the capacity of battery, type of atomizer, the flavor of e-liquid, PG or VG and nicotine content,etc. Now we will talk about how to choose suitable atomizer and e-liquid.
(1) Cotton or ceramics atomizer
The key to choosing an atomizer is the material of wick. As mentioned earlier, the main wicks on the market are cotton and ceramics now. We can't say which is better since they both have advantages and shortcomings. The cotton wick generates less vapor, the vapor particles are large, the amount of mist is uneven, and the core is easy to damage. The ceramics wick produces larger amount of vapor, the particles of smoke molecules are small, the amount of mist is uniform, and it is easy to leak oil.
Here is a simple way to help you make a choice: If you are pursuit of a more tobacco-like feel, the cotton atomizer is the right choice. If you pursue a more delicate smoke sense, the ceramics atomizer is a better choice.
(2) What's the best E-liquid for you
High PG E-liquid: With excellent flavor and satisfying throat hit sense, high PG e-liquid are often regarded as starter vape liquid. High PG e liquid has emerged from the beginning and is still popular now. For a starter user, this is a great choice since it's these liquid can make you feel like smoking.
High VG E-liquid: The high VG content provide great flavour and moderate amount of smoke. The throat hit sense is not so strong to make your throat easy.
50% PG and 50% VG: The perfect ratio of PG and VG provides great taste and satisfying throat hits sense, while you can enjoy rich and smooth vapor. This type is both suitable for starters and experienced vape players.
Nicotine Content in Vape Juice
Since nicotine can be addictive, the safest option is nicotine-free e-liquids. If you start vaping just for pleasure, we advise you to choose the no nicotine vape juice. If you need nicotine, the following table may be helpful to choose the right nicotine content.
| | |
| --- | --- |
| Nicotine Percent | Selection guide |
| 0.30% | For non-smokers or who smoke below 5 cigarettes a day |
| 0.60% | For who smoke 5 to 10 cigarettes a day |
| 1.20% | For who smoke 10 to 15 cigarettes a day |
| 1.80% | For who smoke more than 20 cigarettes a day |
Summery
This article introduces the composition of electronic cigarettes, the safety of vaping, the types of various electronic vape devices, and tells the differences of the content of ingredients in e-liquid. Now all you need to do is choose the look and taste you like. VAPIN supports you to have a try with samples at the beginning!
Edited by Anny