How do you choose the right vape juice for yourself?
Views: 0 Author: Grace Publish Time: 2022-02-22 Origin: https://www.bestvapingfactory.com/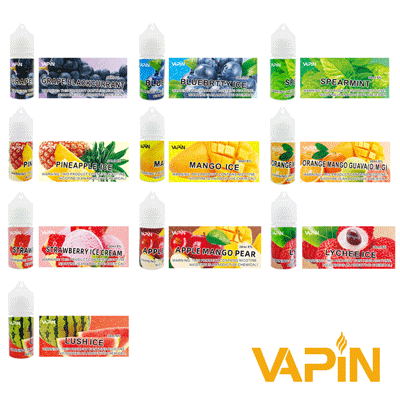 For beginners, it's hesitant to start vaping and make sure to pre-select the best vaping juice. Even with so many flavors to choose from, most vapers still face difficulty choosing the right vaping juice. If the battery of a vape pen is the heart and the atomizer is the brain, then the e-liquid is its soul. Once you've run out of it, you get a useless item.
What are the key things we should consider when buying vape juice? Nicotine Concentration, taste, and VG/PG ratio may be obvious considerations. Once you have experience shopping for e-liquids, you can make fairly informed decisions about these. We'll soon find out which vaping oil is right for us and what we might like to smoke. But what if you're just getting started with vaping and don't know which vape juice to buy? You may be lucky to have friends and family members to guide you. But if not, then this guide will walk you through choosing the vape juice that suits your needs.
What does E-liquid consist of?
All e-liquids are composed of the following ingredients: Vegetable Glycerine, Propylene Glycol, Flavour, Nicotine (Optional) and Water. The VG part of the e-liquid is usually infused with nicotine, while the PG part has that awesome flavor! However, some manufacturers use VG-based nicotine, which is marketed as 100% VG juice, where both the base and flavor are based on vegetable glycerin.

Now that we know the composition of e-liquids, and then the key things you'll need to consider when choosing the best vape juice:
What flavour should You choose?
Most people who smoke conventional cigarettes might consider this an easy choice. We know what flavors we like to drink, we know we used to like the smell of cigarettes. But in practice, when you're trying a VAPE JUICE (a drink flavor you don't like), you might be surprised to find that you like the flavor. Originally disliked the flavor, which can make it very difficult to make a recommendation. This shows that you need to try to find your favorite Vape Juice.

While some e-liquids try to replicate the taste of a particular brand of cigarette, it's not the best. Because when you light a cigarette, what you actually taste is burnt paper and dried tobacco with many different additives, which is difficult to replicate without burning it.
(1)Tobacco flavoured e-liquid
New users often choose tobacco blends that closely match the flavors of their favorite cigarette brands, and tobacco-flavored e-liquids are just what they need, and they will continue to enjoy vaping after many years of quitting. Many e-liquid manufacturers know this, so they create various tobacco blends that mimic the flavors of popular brands
(2)Other e-liquid flavors
For others, it's the exact opposite. Some users become more adventurous and start trying various fruit or food mixtures. Some people prefer food flavors such as wafers, cakes, or pizza, while others prefer fruit flavors such as grapes, watermelon or mango. There are also blends, which combine various fruit, food and tobacco flavors to create new exotic flavors that will satisfy just about every taste imaginable.
Which E-liquid nicotine strength?
You may see nicotine strength displayed in different ways. In percent or milligrams (milligrams). They all show the same thing, the amount of nicotine per milliliter (ml) of e-liquid.
Let's break it down.
A 10ml bottle of 10mg/ml or 1.0% e-liquid contains a total of 100mg of nicotine. Or 1% of the entire contents of the 10ml bottle is nicotine. The lower the mg/ml or percentage, the less nicotine in the e-juice. So 15mg or 1.5% is much stronger than 5mg or 0.5%.
As a general rule, the stronger the e-liquid, the more nicotine is delivered to the e-cigarette and the more pronounced the blow to the throat will be. Therefore, people who smoked heavier chose higher concentrations of nicotine than people who smoked only 2 times a day. Please refer to the left Level chart, the extent of nicotine intensity on throat irritation.
The more VG in the e-liquid, the thicker it will be, and the denser the vapor produced. Hybrid for devices with sub-ohm coils and almost always for high VG e-liquids "directly into the lungs" will give you a dense vapor and a very smooth vaping experience. If you use mouth-to-lung vaping or need high nicotine, then we recommend sticking with our 50/50 blend.

(1)PG and VG are flavorless liquids that combine with flavors and nicotine to form juices.
(2)Both PG and VG are technically in the category of alcohol chemicals (despite their names, they are not intoxicating). They are classified as sugar alcohols and are included in many consumer products.
(3)When heated, they produce steam that can be inhaled.
(4)PG and VG are not oils and do not cause any of the medical problems (like lipoid pneumonia) that inhaling actual oils can.
(5)The two liquids are different in consistency and taste slightly different.
(6)They have a distinct mouth and throat sensation when vaping.
(7)Most modern e-liquids use a combination of the two liquids, although the ratios can vary widely.
Who and where you are buying your vape juice from?
This question is very important! We will be delighted if you purchase and enjoy our own Vape Juice! But we understand that sometimes you may want to try a different e-liquid from another company. In today's society, it is quite easy to know the qualifications of a company.

Are they using premium quality ingredients?
Do they have various agency accreditations?
Does their website look professional?
VAPIN is a factory specializing in the production of vape pen OEM&ODM, and there are a variety of flavors and nicotine e-liquids for you to choose from. Please take a look at the two High-selling Vape Juices, we can make different capacities and flavors according to customer requirements.
For a product that is fairly simple and made of similar ingredients, you'll find prices vary widely, from over 5USD on the high-end to some e-liquids that cost as little as $1 a bottle. The price range does reflect the quality of the ingredients used to make the e-liquid. So while it might be tempting to buy the cheapest bottle of e-liquid from a store for $1, the quality of the ingredients can be much lower. When it comes to e-cigarettes and your health, quality and safety should always be the top priority. Of course, the more capacity you buy, the cheaper it will be. So it's not that cheap is bad, and it doesn't mean that cheap is good. It all depends on your own budget and then decides!
Check out our wide range of e-liquids, and you can also customize the flavors you like! If you need any help, please feel free to contact us. Please click this link to consult us! https://www.bestvapingfactory.com/contactus.html
Author: Grace