How does e-cigarette work?
Views: 0 Author: Mark Publish Time: 2021-10-26 Origin: https://www.bestvapingfactory.com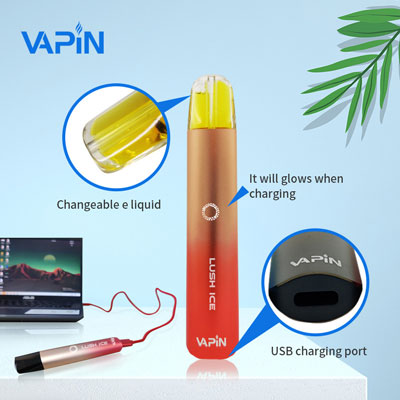 What is e-cigarette?
---
An electronic cigarette is a device that looks like a cigarette, cigar, pipe, pen, or USB drive. The liquid inside may smell of fruit, tobacco or mint.
Lighting traditional cigarettes will cause the tobacco to burn and release smoke containing nicotine. The user inhales smoke to deliver nicotine to the lungs. Electronic cigarettes do not rely on this combustion process.
Do you know how does an e-cigarette work? Let us find out together.
E-cigarette composition
---
Most e-cigarettes consist of the following parts:
1. Mouthpiece: This is a cartridge fixed to the end of the tube. Inside is a small plastic cup with absorbent material soaked in a liquid solution.

2. Atomizer: It heats the liquid and evaporates it so that people can inhale it.

3. Battery: It powers the heating element.

4. Sensor: This activates the heater when the user sucks on the device.

5. Vaporization chamber: The vaporization chamber is a hollow tube containing an electronic control device and an atomizer.

6. Cartridge: E-liquid or e-juice contains a combination of nicotine, alkali (usually propylene glycol) and flavoring agent.

7. LED: Many e-cigarettes have a light-emitting diode (LED) at the end, which emits light when the user inhales, simulating a flame.

How do e cigarettes work?
---
When electronic cigarettes work, high-tech smart chips and air switches are required to jointly control the output state of the smoke. In the working state of the electronic cigarette, the electronic cigarette liquid is transported to the atomization chamber through the foamed nickel. Then the smoking air switch will turn on.
The Suntech Vapin smart chip is driven by the current of the lithium battery to control the operation of the atomization chamber. The smoke liquid is atomized due to the high temperature of the heating wire in the atomization chamber. Thus, a vapor mist that simulates the smoke is formed. This method just makes the smoke simulate the temperature of ordinary smoke (50-60 degrees Celsius), which makes the e-cigarette smoke like ordinary cigarettes, so that the e-cigarette user is refreshed. At the same time, it also satisfies the smoker's pleasure and the psychological habits that have been cultivated for many years, and truly achieves people-oriented smoking.
At the same time, the smoke simulated by the e-cigarette does not contain harmful substances such as nitrogen dioxide, acrolein, carbon monoxide, lead, hydrocyanic acid, arsenic, mercury, etc., thereby truly realizing a real safe and environmentally friendly smoking process.