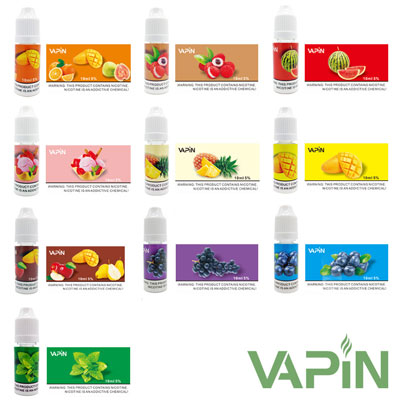 Consumers generally believe that the most important difference between e-cigarettes is the taste of e-cigarettes. Different tastes bring consumers different experiences. At present, the flavors of e-liquid on the market include traditional tobacco flavors, cool mint flavors, and various fruit flavors such as mango, peach, orange and so on.
So how do these different flavors come out?
You can think of the process of adjusting the scent of e-liquid as very similar to making perfume. In addition to the traditional extraction process, a popular fragrance mainly relies on the perfumer to mix the proportions of different raw materials to "create" a wonderful fragrance.
The first is the choice of essential oils. Essential oils are also called flavors. They are scented liquids extracted from plants or animals. Many plant petals and fruits contain natural scents. These scented ingredients are extracted and purified by complex processes. The most important raw material for flavor modulation-plant essential oils is obtained.
Then there is the blend of flavor and solvent. Essential oil is a highly concentrated mother liquor with a very high fragrance ratio. It is necessary to use a specific type of solvent to adjust its fragrance concentration to make it have different levels of fragrance and texture. The good combination of essential oils and solvents can make the fragrance display or implicit, unrestrained, or shameless, and let the fragrance show a dry and varied posture.
Experienced perfumers will mix different types of fragrances to create a richer fragrance. When designing the fragrance, the perfumer will consider the top, middle and end notes of the target fragrance, and mix essential oils from different sources, so that they can create endless fragrance combinations.
Except for the tobacco flavor, mint flavor and other raw materials derived from plant leaves, most of the flavors of e-cigarettes are fruit flavors. The flavor components contained in fruits are familiar to consumers and are more suitable for consumers' tastes. After a certain scent is roughly determined, after careful screening and necessary consumer testing, the one that is most appealing is selected, and a product is released.
VAPIN provides a variety of flavors of electronic cigarettes. What are the specific ones?
Original taste series: classic and mellow. These two flavors don't need to be explained, the old players know it, and they are powerful.
Dessert series: sweet ice, mung bean smoothie, taro ice cream, strawberry yogurt, desert yogurt. The taste of this series is sweet and sour, and the cooling degree is moderate. Popular, recommended sweet ice, mung bean smoothie, strawberry yogurt, more distinctive.
Cool fresh series: exciting mint, oolong cold extract, jasmine tea. Needless to say, the scented tea is the fragrance of tea. The stimulating mint flavor is also very cool. Oolong cold brew is like oolong tea with ice, and iced oolong tea is also very cool.
Fruit series: style mango, sweet watermelon, iced pineapple, lychee 0%, honey lemon. The friends around me like this series more, probably because everyone doesn't like to eat fruits, but they like to "drink fruits". I recommend iced pineapple. Of course, there is 0 nicotine content of lychee, that is, the lychee flavor can also be tried lightly.
In summary, the most popular flavors are: mung bean, sweet ice, yogurt, pineapple, lemon, and jasmine.
If you like sweet, choose sweet ice, yogurt, and if you like fruits, choose mango, pineapple, lemon, and lychee. Like the original flavor, the classic mellow is fine. If you like tea, choose jasmine or oolong. Like to choose mint with a high degree of coolness.
Please click here to choose your favorite fruit flavor VAPIN Vape Pen.