How to fill a vape pen with e-liquid
Views: 0 Author: Grace Publish Time: 2021-12-30 Origin: https://www.bestvapingfactory.com/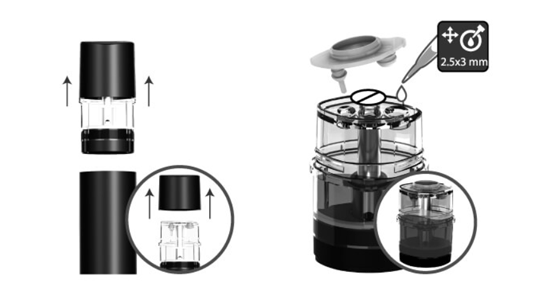 As we all know, vape pens are an incredible alternative to smoking. Learning how to refill your e-cigarette pen is an essential skill if you want to be good at vaping. If you don't know how to fill it, you will not be able to smoke refillable vape pens, unless you use 100% disposable e-cigarettes. Filling your e-cigarette pen may sound like a simple task, but in fact, it is more tricky than it looks, depending on your device and the e-cigarette you are using. But don't worry, we will show you the correct way to refill the vape pen in this article, Let's look at the different types of vape kits and how to refill them with your favorite e-liquid.
REFILLING A CLOSED POD SYSTEM
If you have what is known as a closed pod system, it means that the pod of your kit is already filled with e-liquid. E-cigarettes that use tanks (or cartridges) are called "Closed System", and these kits do not require manual refilling of e-liquid. When the vape pen liquid is used up, you throw away the cartridge and install a new cartridge. It is very simple to replace any of them. Just check whether it is connected correctly and completely, and it can be used after confirming that the installation is complete. These E-liquid pod devices are convenient, simple to use, and dominate the vape market, very popular with smokers.
P

ROS AND CONS OF CLOSED PODS
(1)PROS OF CLOSED PODS

Low Maintenance-No need to purchase coils or have to clean the water tank

Hassle-free alternative-No need to make a mess when refilling, because the pre-filled pods are easy to replace

User-friendly-Intuitive design, usually just press a button, You can also use different tank cartridges to easily switch flavors

Low Profile-Can be easily put into the pocket, is easy to carry, and has a natural feel. In addition, there is no need to carry the e-liquid bottle with you, which produces less vapor

Low Investment-Closed systems cost an average of 30 to 50 dollars.
(2)CONS OF CLOSED PODS
Limited Selection-The choice of flavor and nicotine strength is limited, and only pre-installed pods made by the same manufacturer can be used.

Costlier than open system pods-Over time, a closed pod system will force you to spend more money. This is because the closed pod is more expensive than a single bottle of the same amount of e-liquid.

When the e-liquid bounces off the coil instead of evaporating, regurgitation may occur, similar to when water boils and water pops out.
REFILLING A OPEN POD SYSTEM
E-liquid bottles are used to refill Open System devices like the blu PRO. It means that the clearomiser can be filled manually (the place where the e-cigarette liquid is stored) --- it is called the "Open System".Pls see below step, to refill a clearomizer simply:
Unscrew the battery and mouthpiece from the clearomiser.

Select the fruit-flavored e-liquid you want to fill and open the bottle.

Hold the e-juice bottle at an angle to avoid center tubing. (This is to avoid that you will taste the taste of liquid when smoking e-cigarettes, but this is what you don't want!)

Squeeze to fill the clearomiser. but keep a close eye on the level. You should never fill it up at the top of the window.

Screw the battery and mouthpiece back into the clearomiser. (When you feel it is necessary to replace the battery and mouthpiece, please replace them.)

Take a few shorter resistance to prepare optimal steam production for your equipment.

Take a few puffs of e-cigarette to make the new vape pen move.

When refilling your vape pen this way, it is best to wrap it with a paper towel around the side of the vape pen so that any spilled e-liquid can be easily wiped off. Refilling your device also provides a good opportunity to clean the mouthpiece, and multiple cleanings will also make you taste better and cleaner. To ensure that your device continues to produce the best flavor and consistent vapor, It is worth noting the date you refilled the e-cigarette because it is normal that the clearomiser needs to be replaced after about 12 refills.

PROS AND CONS OF OPEN PODS
(1)PROS OF OPEN PODS
Wider Range of Flavors and Nicotine Strength-Users can try any e-liquid on the market, with more options, which means that they are not limited to pre-installed cartridges produced by cartridge system manufacturers.

Low Investment-Buying e-cigarette liquid by bottle is cheaper than buying a pack of pre-filled juice cartridges, and it is more cost-effective than closed pods, simple and convenient.

User-friendly-Most popular among e-cigarette users who are accustomed to more complex settings because they are used to choosing e-cigarette oil and pouring it into pods.
(2)CONS OF OPEN PODS
Inconvenience-You must refill the e-liquid manually, and you must replace the coil or replace the cartridge after multiple uses,makes people feel too troublesome.

Easy to flow out-The filling port on the pod cartridge is quite small, so it is easy to mess up when refilling the cartridge.

Low battery life-It is usually one of the shortcomings of vape pods, but fast charging.
The filling methods, advantages and disadvantages of CLOSED Pod and OPEN PODS have been introduced above.So how do we choose e-liquid? How to choose the taste you like?Please see the following points are very important:
VAPIN is a factory specializing in the production of vape pen OEM&ODM, and there are a variety of flavors and nicotine e-liquids for you to choose from.
This is a step-by-step guide to e-cigarette liquid supplementation for beginners. So you have it, you are now equipped with the knowledge of how to fill your vape! Don't know what to fill it with? Check out our wide range of e-liquids, and you can also customize the flavors you like! If you need any help, please feel free to contact us.
Please click this link to consult us! https://www.bestvapingfactory.com/contactus.html
Author:Grace