How to use a disposable vape pen for the first time?
Views: 0 Author: Grace Publish Time: 2021-12-23 Origin: Site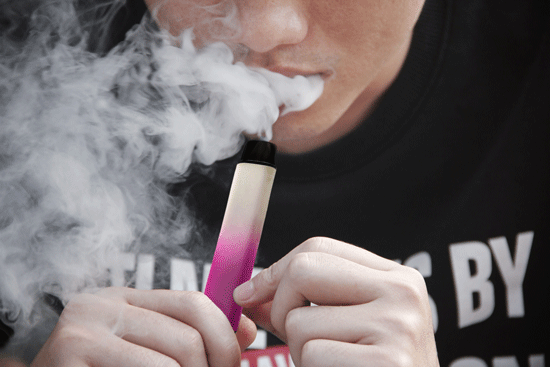 Nowadays, more and more people use e-cigarettes, and many people have begun to switch from traditional cigarettes to disposable e-cigarettes. For newbies who are new to e-cigarettes, some wrong operations may occur when using e-cigarettes. These wrong operations often lead to a decline in the quality of e-cigarette use experience, and even affect novices understanding and perception of e-cigarettes, Therefore, knowing how to use e-cigarettes correctly is essential for enjoying a good time. This article will tell you how to use a disposable vape pen, let's look down!

Before we learn how to use disposable vape pen, let's first understand what an electronic cigarette is! E-cigarettes are electronic products that imitate cigarettes, with the same appearance, smoke, taste and feel as cigarettes. It is a handheld device in which nicotine or other types of e-liquid can be heated to generate inhalable vapor, thereby providing a sense of relaxation similar to smoking. Today's electronic cigarettes are not like cigarettes which only have a simple cigarette taste. We can choose our favorite fruit flavors or juice flavors, and we have a variety of choices. Many people will ask, who introduced the Vape pen? Since it was launched by Chinese pharmacist Hon Lik in 2003, this e-cigarette pen has been used by millions of people around the world.
The Vape pen has a simple structure and simple function. Although the design and shape of Vape pens on the market are different, the materials are roughly the same. Vape pens contain a rechargeable lithium-ion battery, an atomizer, a cartridge or tank, a sensor and a mouthpiece. Of course, disposable electronic cigarettes do not have a rechargeable lithium-ion battery. When the user sucks on the mouth, the battery charges the sensor, which causes the temperature inside the atomizer to rise. This heats the liquid in the cartridge and converts it into steam,The steam enters the user's mouth through the device, and the user releases it by exhaling.
Take your new vape out of the packaging

Locate the activating button. Press activating button and an indicator should light up. There may not be one. If not, please skip this step.

Place the mouthpiece in your mouth.

Take a short inhale. If there are no buttons, you might see the indicator light on the bottom light up. Before you get used to using e-cigarettes, it is best to inhale a small amount slowly.

Leave the steam in your lungs for a minute or two. For novices, you should spit out the vapor quickly.

Exhale the vapor.
Generally speaking, for the first use of Vape pen, it is best to inhale a small amount. This means you breathe in less steam, so you won't be overwhelmed. For some people, deep inhalation can make their throat and lungs feel uncomfortable.
After knowing how to use the vape pen,Here we take a look at how to make sure your vape pen is stored safely.If you want to make the most of something for as long as possible, you must do your best to keep it in good condition. The same is true for e-cigarettes. You must store them so that they continue to provide the best taste.

1.Avoid Direct Sunlight
The main components of e-liquid are solvent propylene glycol, glycerin, nicotine (nicotine), fruit or juice and other flavoring agents. Exposure to harmful ultraviolet rays and other aspects of the sun will easily cause the volatilization and oxidation of vape pen. The easiest solution is --- just keep them out of the sun! Whether it is a disposable vape pen or a rechargeable vape pen, it is best to put them in a drawer or in other cool places where children at home cannot find them, disposable The vape pen can be stored in the refrigerator. When exposed to direct sunlight, these products will quickly deteriorate and the e-liquid will evaporate, which greatly reduces their effectiveness.
2. Keep it Upright
When placing the vape pen, we try to keep it upright, because placing the e-cigarette device on its side or upside-down may not only cause the device to leak and deplete your e-liquid, but it will also make it easier for dust and dirt to enter the device internal.
3. Keep it Clean
For rechargeable e-cigarettes, you must clean it every time you change the e-liquid, which can ensure that the gunk will not accumulate and improve the service life of the device. According to how often you smoke, clean the electronic cigarette properly. The basic steps are to disassemble your electronic cigarette, wipe the components, clean the battery terminals, and assemble it to charge it after cleaning.
We hope this guide will give you an idea of how to use a disposable vape pen, if you as a novice want to try a vape pen,Please click this link to consult us!
https://www.bestvapingfactory.com/products.html
Author:Grace