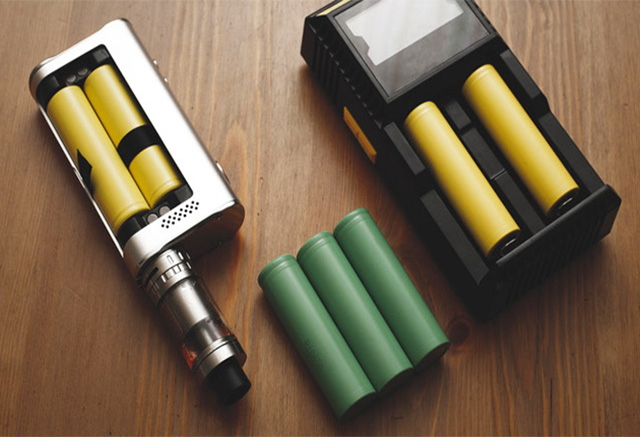 What is an e-cigarette battery?
Why do e-cigarettes use lithium batteries?
What do the numbers "18650", "36650", "18350" mean?
Electronic cigarette battery type
7 Tips on how to extend battery life
Could the battery explode?
4 Tips for Keeping Your Battery Safe
8Teach you how to solve the broken skin of the electronic cigarette battery
Battery capacity v. Battery voltage
Battery capacity and power supply
How to avoid shortening the battery life of electronic cigarette sticks?
Battery maintenance
Battery Storage
Travel with batteries
Disposal of Vape Batteries
Recommended e-cigarette batteries
The battery is the most important part of the electronic cigarette equipment. It provides power to the main equipment and is used to heat the heating wire and make the neutralizer work. There are many kinds of batteries on the market. Many people have a headache when choosing batteries. I don't know what to use to buy batteries. And most of them are against the opinions of others, blindly thinking that only expensive ones are good. This not only wastes a lot of money, but also wastes the performance of the battery. Therefore, the author will simply introduce some basic battery knowledge to you, and teach you how to choose a suitable battery according to your own equipment. Save money while meeting the needs and security of your equipment.
What is an e-cigarette battery?
E-cigarette battery probably means the part of the e-cigarette that holds the internal battery in place. The term is often used for smaller vape devices, such as Halo Cigalike batteries or pen batteries.
For larger devices, the part that holds the battery is often called a mod. This distinguishes it from replaceable batteries that are often used inside mods or pod mods.
Why do e-cigarettes use lithium batteries?
Electronic cigarettes use lithium-ion batteries. Lithium-ion batteries have the highest density, high average output voltage, small self-discharge, and good batteries, below 3% per day (recoverable). There is no memory effect. The working temperature range is -30℃~60℃. Excellent cycle performance, fast charging and discharging, charging efficiency up to 100%, high output power and long service life. It does not contain toxic and harmful substances, and is called a green battery. The working voltage of a single battery is as high as 3.7-3.8V (3.3V for lithium iron phosphate), which is 3 times that of the old nickel-metal hydride battery. Moreover, lithium-ion batteries have a long cycle life, generally reaching more than 500 times, or even more than 1,000 times, and lithium iron phosphate can reach more than 3,000 times, saving a lot of use costs. The safety performance of lithium-ion batteries is also very good, no pollution, no memory effect. Does not contain cadmium, lead, mercury and other elements that pollute the environment. And there is no "memory effect".
What do the numbers "18650", "36650", "18350" mean?
I often hear "18650", "36650", "18350", so what do these numbers represent? First of all, the general industry standard for battery models is marked with 5-digit numbers, the first two digits are the diameter of the battery, the latter The first two digits are the length of the battery, and the last digit is the shape of the battery. For example, the "18650" battery, installed and interpreted as described above, is a "0" cylindrical battery with a battery diameter of "18" mm and a length of "65" mm. (Now some manufacturers omit the last digit "0". Because the actual meaning is not very big, you can distinguish the shape of the battery by seeing the appearance of the battery.)
The most common use of electronic cigarettes is the "18650" battery. Of course, some mechanical rods can also use "18350" batteries. For example, the "pilot" mechanical lever is very small after using the "18350" battery. With the matching "HOBO" vagrant drop oil atomizer, the total length is only a little longer than 1 "18650" battery.
Electronic cigarette battery type
Automatic vape battery
1. Easy to use
2. Very similar to regular cigarettes
3. Usually requires a shorter charging time
3. There may be a delay between puffing and inhaling the vapour
Manual vape battery
1. Usually has more power, provides more steam and produces a better "throat hit"
2. Provides more control, often with longer deadlines
3. Usually longer than automatic battery life due to larger size
4. It can usually be turned on or off by clicking the button five times
7 Tips on how to extend battery life
1. Storage: Store the battery in a cool, dark place, especially for long-term storage. If you do plan to store the battery for a long time, try to make sure it has at least 40% charge.
2. Regular Use: Most vape batteries are designed for daily use.
3. Do not fully charge the battery. Vice versa, an incomplete charge of the battery may also extend its lifespan. However, for this reason, many manufacturers show the battery is fully charged at 90%.
4. Don't charge the battery too frequently: Similarly, charging too frequently (ie, charge a little first, then smoke the e-cigarette until the battery is dead) will rapidly shorten the lifespan: try to stay within the above parameters (don't fully charge, don't let battery is fully discharged).
5. Shut off when not in use: This is especially important if you keep the battery in your bag or pocket, as the pressure can cause the device to smoke. Not only will this drain the battery, but it will also damage the coil.
6. Avoid high temperature and direct sunlight: If your battery overheats, this may cause wear and tear.
7. Protect the battery with a protective case: The battery can be knocked around and get fluff and dust in your pockets. For the best care, keep the battery in the e-cigarette case.
Could the battery explode?
Lithium-ion batteries, despite their small size, are very efficient at generating electricity. Unfortunately, the properties and chemistries used in lithium-ion batteries also mean that any lithium-ion battery has the potential to explode.
Lithium batteries contain highly flammable and volatile elements such as lithium, sodium, and potassium. If you drop them in water it will explode. When a battery overheats, it can cause a chain reaction that can cause the battery to swell or explode.
Fortunately, modern designs mean that explosions are very rare (one in ten million, according to Battery University estimates).
4 tips for keeping your battery safe
1. Don't mix and match
Charge the battery only with the charger supplied with the battery or with a charger specially designed for that battery. While the chargers may look similar, the voltage output may be different. Charging one supplier's battery with another supplier's charger can cause problems. In fact, as the London Fire Service points out, this has caused most of the problems to date.
2. Safe charging
Do not charge the battery at night or when going out. For safety, charge the battery on a non-flammable surface. If you have a manual battery, turn it off before charging.
3. Overcharge protection
Check with your supplier to make sure your battery has overcharge protection. All batteries on the E-Cigarette Direct are overcharge protected.
4. Carry the battery safely
If you are using a mod with a separate battery, carrying the battery safely is absolutely essential. Without a plastic case, keys, coins, or other metal objects in your pocket could touch the battery's terminals and cause a short circuit. These cases are very affordable, but if you don't use one, there is a risk of the battery exploding, so you should always use one when you're carrying a loose battery in your pocket.
Teach you how to solve the broken skin of the electronic cigarette battery
The broken skin of electronic cigarette batteries will be encountered by many people when they use electronic cigarettes, and many people will not care about it at first. After a long time, it will be found that the broken skin of the electronic cigarette will cause leakage. How to put a new "skin" on a broken battery?
1 Buy some battery skins online (here we use Hulk's battery skins). We completely tore off the damaged battery skin, propped the Hulk apart, and stuffed the battery into the battery skin!
2. We adjust the battery up and down so that the redundant length of the upper and lower battery skins is about the same!
3. Take out the hot air gun or hair dryer, adjust the mode of blowing out the hot air, cover the battery skin and start blowing, it is recommended to blow the negative electrode first!
4. Continue to blow, blow the positive pole, the battery skin will shrink inward due to the hot air, remember to hold the small circle on the positive pole of the battery, this is just a demonstration, you can just hold it with your fingernails while blowing, the temperature Don't blow too high, wait until it shrinks, and then close your hand to make sure that the small insulating ring is in place!
5. Put the battery upright or on the ground and blow the side of the battery!
Battery capacity v. Battery voltage
One thing that confuses many new e-cigarette users is the difference between battery capacity and voltage or wattage. Battery capacity is a measure of "battery life" on a single charge. The capacity of an e-cigarette battery is usually measured in milliamp hours (mAh). The higher the mAh rating, the higher the capacity of the battery and, depending on the power consumed, the longer the duration between charges.
Most non-regulated vape batteries output 3.7 volts. A battery with a capacity of 1100mAh feeding a 1 ohm coil will be able to output 3.7 volts longer than a battery with a capacity of 800mAh. However, both will output the same voltage.
Battery capacity also depends on the coil used, as lower resistance coils will consume more power than higher resistance coils.
Battery capacity and power supply
Many e-cigarette users simply choose the maximum capacity (measured in mAh) and ignore the amps.
However, insufficient amps can cause problems with 18650 devices. These include faster battery degradation and low battery warnings.
If you have a single 18650 battery device, it is sometimes better to choose a battery with a higher continuous amp output and less mAh. For example, the Molicell 2600mAh 18650 battery is more suitable for high power e-cigarettes than the Extreme Vape 3000mAh 18650 battery.
How to avoid shortening the battery life of electronic cigarette sticks?
Core tip: Although electronic products can be charged with a 5V universal charging head, due to different discharges, the current of mobile phone and pad data lines is mostly higher than that of electronic cigarette charging lines, and overshoot can easily lead to battery damage. Therefore, in order to avoid the shortening of the battery life of the cigarette rod, please use the original data cable when charging. How to make sure that the battery is fully charged? In general, after 30 minutes of charging, the indicator light goes off, which means it is fully charged
Battery maintenance
Clean battery terminals. Nothing complicated here, just screw some tissue paper and rub the terminals. If a more aggressive cleaning is required, a cotton swab can be used. For the most effective cleaning, use a cotton swab moistened with rubbing alcohol to clean the terminal. Allow the battery to dry for a few seconds before use.
Keep the battery charged. As mentioned above, keeping some power in the battery can extend the life of the battery, especially if you don't use it for a while.
Battery storage
Turn off the battery when not in use.
Disconnect from the tank/cartridge.
Avoid full discharge before storage. If you're going to be storing it for a long time, aim for around 50% charge.
Store batteries at low temperatures.
Travel with batteries
As with storage batteries, you should disconnect the battery from the cartridge/tank and turn off the manual battery. Most airlines do not allow you to carry lithium-ion batteries in checked luggage, so you may need to put batteries in your carry-on luggage. If unsure, check with your airline. (See also Traveling with e-cigarettes: The basics you need to know.)
Disposal of vape batteries
All e-cigarette batteries eventually die and it is important to dispose of them properly.
Vape batteries should not be thrown in the general trash. Some councils do collect batteries. If your council does not collect batteries, your best bet is:
1. Take it to your local recycling center. Recycle Now can help you find the person closest to you.
2. Return it to your local vaping store. Most vaping stores will take back the batteries they sell under the WEEE (Waste Electrical and Electronic Equipment) program.
Recommended e-cigarette batteries
Best Pen Battery: The Innokin Endura T1811 is built to last. It is a reliable, easy-to-use manual device. The 1300 mAh battery makes it suitable for low-power, mouth-to-lung e-cigarettes.
BEST VAPE BATTERY FOR LONG LIFE: The Coolfire IV is not a new device. But it also means our recommendations are based on extensive experience! The device is easy to use and extremely reliable, lasting up to 5 years in some cases.
Best High-Capacity Vape Batteries: Both the iStick Power 2 and Innokin MVP 5 have long-lasting 5000 mAh capacity batteries. Both can be used as power banks, and the MVP 5 also has a number of unique survival features.
Fastest Charge: The Geekvape Obelisk (review) goes from zero to full in just 15 minutes. It also has a very respectable 3700 mAh battery capacity.
BEST REPLACABLE BATTERIES: The Molicel 18650 and 21700 batteries are reliable and have better power delivery than some other brands, making them ideal for high-powered vaping.
Click here to know Top 20 E-liquid and Vape Juice Brands To Buy in 2022