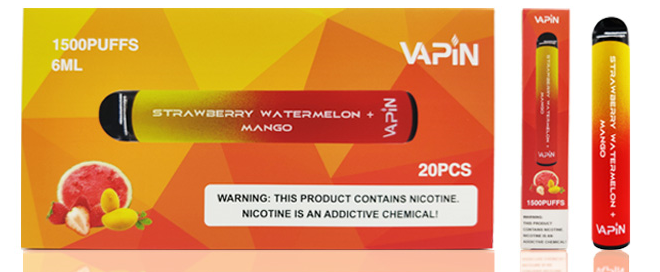 Brief introduction to the development of Vape
Afterwards, some researchers had continued to study, hoping to make an alternative of cigarettes to reduce the harm to people. But they all failed.
In 1979, Phil Ray and Norman Jacobson tried to replace smoking with evaporation. This method has made a small sensation at the time, but they failed because their device cannot delivery nicotine smoothly to the evaporator. Since then, some companies have spent a lot of resources trying to develop a method to replace traditional smoking, but no company can make a product that meets the requirements for the masses.

Until 2003, Chinese pharmacist Hon Lik successfully developed an electronic cigarette. The smoke emitted by this e-cigarette device contains nicotine but does not contain a large amount of other harmful combustibles as traditional cigarette, which not only meets the needs of smokers, but also does not cause harm to the human body.
This invention has achieved great success, driving the rapid development of electronic cigarettes. In 2004, the first batch of e-cigarettes was introduced into the Chinese market. In 2005, electronic cigarettes began to be sold and used in Europe. In 2007, e-cigarettes quickly entered the U.S. market after being popular in the European market.

Electronic cigarettes have been updated for several generations within the years of development, and the image above shows the different types of vapes in different generations.
Disposable e-cigarette is the first generation and it's the most classic electronic vape device. Disposable vape pen have always been popular among users for their portability and stable performance. Disposable vape pens are also constantly evolving to various types with multiple flavors and different capacity. Below picture shows several models of VAPIN.

Due to the high long-term cost of disposable e-cigarettes, some companies have developed rechargeable vaping devices. The rechargeable vape pens do not require replacement of accessories in the short term, so they are more cost-effective in the long run. Many rechargeable vapes can also change the liquid pod and adjust the flow, so you have more choices and may get better experience.
VAPIN introduction
Launched in 2018, VAPIN is a self owned brand of Shenzhen Suntech Company. Shenzhen Suntech Co.,Ltd is founded in 2016, is a company integrating manufacturing and trading now. From the beginning of the establishment of the company, we have taken product quality as the first element, from raw material procurement to finished product quality inspection, we have industry professionals and standard machine to check and inspection to keep the quality.

Suntech has a professional R&D team and professional technical workers, about 200 employees, more than 1,000 square meters of factory buildings, and is constantly expanding.
Our factory have passed ISO9001:2015 quality management system certification. VAPIN electronic cigarette products have all passed CE certification, EU ROHS standard certification and US FCC standard certification. Located in Shenzhen, Guangdong, where 90% of electronic cigarettes are produced in the world, we have sufficient resources and materials, and strong production capacity to provide customers with the most powerful support.
After these years of development, we now have accumulated a wealth of experience in vaping OEM&ODM. As a professional e-cigarettes supplier, we provide systematic assembly, filling and packaging solutions to keep the standard quality. And we also support flexible adjustments, design according to different requirements. In the early stage of project development, we will first study the feasibility of the plan and then make improvements. During the ongoing process of the project, we will continue to communicate details with customers to meet all the requirements.
We also have perfect after-sales service. If you have any questions after receiving the product, please feel free to contact us and we will work with you to solve all the problems as we can.
Suntech VAPIN is sincerely willing to build a stable and long term relationship with customers all over the world. In our cooperetion, we will not only be partners but also be good friends. We continue to improve our products and provide better service , any feedback and suggestions will be greatly appreciated. It's believed that we can not only provide you with satisfactory products and services in cooperation, but also graw together.
If you have any questions, don't hesitate to contact us: mark@we-vaping.com
Here are some products that you may interested in:
Best 600 Puffs Disposable Vape Pen with 10 Flavors Electronic Cigarette
Best Vapor Pen 1200 Puffs E Cig Disposable with 2%-5% Nicotine Hookah Flavors
8ml E Liquid Vape Pen 5% Nicotine Liquid Disposable Mini E-Cigarette
Hot Vape Original Factory Wholesale 800 Puffs Chargeable Vape Pen
Edited by Anny