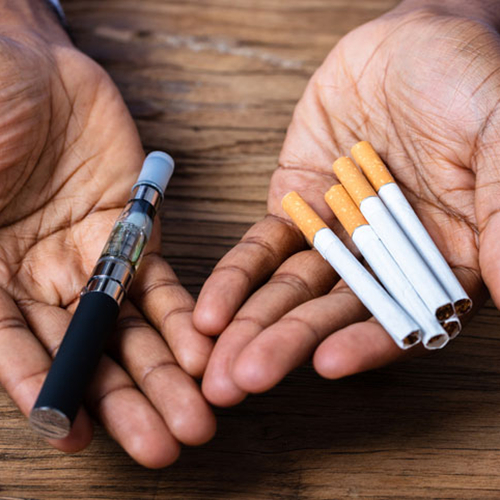 According to the World Health Organization, tobacco kills as many as half of its users and causes more than 8 million deaths each year,Tobacco can also be fatal to non-smokers, and second-hand smoke exposure causes 1.2 million deaths each year.
In recent years, vapes have become a popular smoking cessation aid. Also called e-cigarettes or e-cigs, they are less harmful than cigarettes and can help you quit smoking healthily.
What is an vape? How do they work?
---
An e-cigarette is a device that allows you to inhale vapour instead of nicotine in the smoke. Electronic cigarettes do not burn tobacco, so they do not produce tar or carbon monoxide, which are the two most destructive substances in tobacco smoke. Vape does not expose users to the same level of toxins that can cause smoking-related diseases in people who use traditional cigarettes.

Electronic cigarettes use smart chips and air switches to control their working status and smoke output. Inside the e-cigarette, the e-cigarette liquid is transferred to the atomization chamber through the foamed nickel, and is turned on by the smoking air switch. The smart chip controls the operation of the atomization chamber through the current drive of the battery. The heating wire in the atomization chamber generates high temperature to atomize the smoke liquid, thereby generating a vapor mist that simulates smoke.
Is nicotine dangerous?
---
Almost all the hazards of smoking come from thousands of other chemicals in tobacco smoke, many of which are toxic. Although nicotine is an addictive substance, it is relatively harmless.
Nicotine replacement therapy has been widely used for many years to help people quit smoking and is a safe treatment method.
What is the principle of smoking cessation for vapes?
---
Studies have found that the success rate of people who use e-cigarettes to quit smoking is much higher than those who try products such as smoking cessation patches or nicotine gum. Electronic cigarettes use the principle of nicotine replacement therapy to help achieve smoking cessation. It does not burn, does not contain tar and other chemicals, and does not have carcinogens in ordinary cigarettes.
E-cigarettes use the most universal nicotine replacement therapy in the world, which is to gradually reduce the nicotine inhalation of smokers. However, even the highest concentration of nicotine content is only 1/3 of ordinary cigarettes, so that it can avoid dependence on e-cigarettes. According to incomplete statistics, e-cigarettes should be the product with the highest smoking cessation success rate among the various products of nicotine replacement therapy. In addition to the use of nicotine replacement therapy, e-cigarettes have one of the biggest advantages, which is that they do not change the habitual actions of smokers. This is very important, because a large part of smokers can not get rid of this habitual action, they have been unable to quit smoking successfully.
What is the cessation process of e-cigarettes?
---
1. Alternative cigarettes-simulating the real smoking process:

Really simulate the smoking process, e-cigarettes do not change smoking habits like cigarettes, humanely simulate the action of smoking, smoke e-cigarettes and enjoy the whole process of smoking, alleviate and reduce cravings, and replace cigarettes with health, which can fully satisfy the physiological and physical effects of smoking. Psychological needs.
2. Tobacco control-get rid of dependence on cigarettes:
Electronic cigarettes use modern electronic technology to make smokers feel the same pleasure as smoking traditional cigarettes while inhaling, and can make people get rid of dependence on cigarettes without knowing it, so as to achieve the purpose of humanized tobacco control.
3. Quit smoking-get rid of dependence on nicotine:
Through nicotine replacement therapy, e-cigarettes gradually reduce the inhalation of nicotine in the body according to the course of treatment, until the use of nicotine-free e-liquid, and get accustomed and adapt to a period of time to get rid of the cravings. At the same time, drink plenty of water when using e-cigarettes to help eliminate nicotine and help quit smoking.
According to the scientific magazine Addiction, with the increase in the use of e-cigarettes, the success rate of people quitting smoking has increased since 2011.
A new evidence covering 50 studies and more than 12,000 participants found that nicotine e-cigarettes may indeed help people quit smoking for at least six months. Compared with traditional nicotine replacement therapy, e-cigarettes containing nicotine can help more people Quit smoking. The review found no association with serious harm. However, we still need more reliable evidence to be confident about the impact of e-cigarettes. The good news is that more evidence has emerged.
On the one hand, e-cigarettes can help quit smoking, but you must have the perseverance to quit, otherwise you will relapse after you quit smoking. On the other hand, e-cigarettes will not produce second-hand smoke and can avoid the harm of traditional cigarettes to family members.

If you want to know more about e-cigarettes, please contact us for priority-free consultation.
Edited by Zayn