Vaping vs. Smoking, which is more harmful?
Views: 0 Author: Anny Publish Time: 2022-02-21 Origin: https://www.bestvapingfactory.com/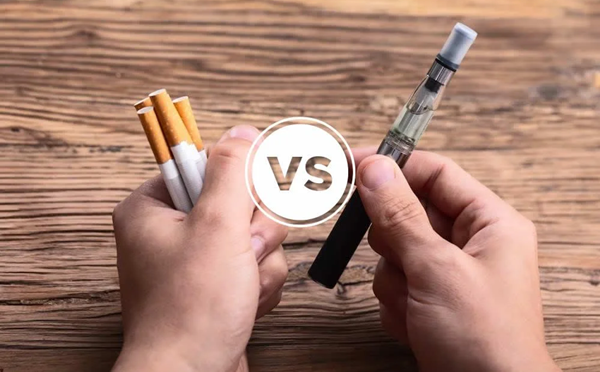 1. What is Vaping, how do they work?
Vaping is a way to heat the liquid to become the air and allow you to inhale them to get an experience similar to smoking. Since vaping provides a smoking-like experience and imitates the actions of smoking, many people use vapes instead of traditional cigarettes to achieve the purpose of quitting smoking.
With the evaluation of many researchers' efforts vaping devices now have come in various shapes, sizes, and colors. From the initial Cig-A-Like to current vape pens, vape mods, pod mods, etc.
Usually, vaping devices are mainly composed of a host and an atomizer, and some devices also contain chips that can only detect the electronic cigarette device itself. The host provides power, and the atomizer heats the e-liquid into mist-like particles. Electronic cigarette hosts are mainly divided into three categories: mechanical rods and adjustable pressure boxes. Electronic rods are the first batch of products in the electronic cigarette market. Due to the limited technology at that time, most of these products did not have a display screen, and the output power was adjusted by twisting the parts or pressing the ignition button. The mechanical rod does not have any circuit board and chip protection, so the output power cannot be adjusted. Its structure is composed of a metal tube and a bottom switch. Unscrew the switch and put in a 18650 battery to use it. This cigarette rod is heated by direct electricity, the taste is softer and more delicate, and the reduction degree of e-liquid is higher. The news about the explosion and fire of electronic cigarettes, mostly are electronic cigarettes with mechanical rods. The adjustable pressure boxes are currently the most widely used category of e-cigarettes. This electronic cigarette adjusts the power through the button on the machine, and the power determines the amount of smoke.
The working process of the electronic cigarette is as follows: the main device heats the e-liquid in the atomizer to generate aerosol by-products, inhaling nicotine, marijuana or other substances through the mouthpiece, part of the gas is inhaled into the lungs, and then discharged through the mouth or nose.
2. Vaping or Smoking, which is better?
Vaping is different from smoking. Many studies have shown that there are about 4,000 kinds of chemicals generated from tobacco burning, more than 70 of which have been found to cause cancer. And when tobacco burns, it releases carbon monoxide, a toxic gas found in car exhaust. Many tobacco manufacturers add sweetening additives such as licorice or chocolate to tobacco to make smoking more addictive and more toxic. To read more about the health effects of smoking, please click here.
Compared with smoking, vaping does not produce tar or carbon monoxide which are the two of the most harmful elements in tobacco smoke. Usually, the e-liquid contains 4 kinds of ingredients: PG, VG, Nicotine, and Flavors.
PG, also known as propylene glycol, is a common drug and food additive.
VG is also known as vegetable glycerin or glycerol. Because VG is extracted from plants, many e-cigarette users believe that VG is healthier. VG is viscous and has a large specific gravity, so it produces a large amount of smoke.
PG is much thinner than VG and produces much less smoke. However, PG will have a strong throat hit, and many users like this feeling. In addition, PG has been recognized as a safe food additive by the FDA.
Tobacco cigarettes and vapes all contain nicotine. During smoking, the nicotine content in a cigarette is generally fixed, and how much you get depends on how you smoke. In e-cigarettes, the amount of nicotine depends on the strength of the e-liquid you choose and how you vape.
Although nicotine is an addictive substance, it is not very harmful to the body. Nicotine replacement therapy has been widely used for many years to help people quit smoking and is a relatively safe treatment.
Maybe you've heard of e-cigarettes causing explosions or fires, now we want to say yes, it indeed has a little risk in charging. Like other rechargeable electrical devices, you need to use a matchable charger and do not charge your vaping device unattended or overnight.
Vaping is not completely risk-free, and the liquid and vapor of e-cigarettes have also been found to contain some potentially harmful chemicals, but at much lower levels than tobacco. The healthiest option is not to smoke traditional tobacco cigarettes and not to use e-cigarettes. If you want to quit tobacco cigarettes, electronic cigarettes will be a good choice for you.
In addition to the above healthy analysis, we can also consider it from a cost perspective. The unit price of e-cigarettes is higher than that of tobacco cigarettes in the short term, but the cost of e-cigarettes is much lower than tobacco cigarettes in the long run.
For example: Assuming a person smokes 20 cigarettes a day, it costs $9,000 a year. But if he uses e-cigarettes, it only costs $900 a year.
In conclusion, vaping is better than smoking in keeping healthy and saving costs.