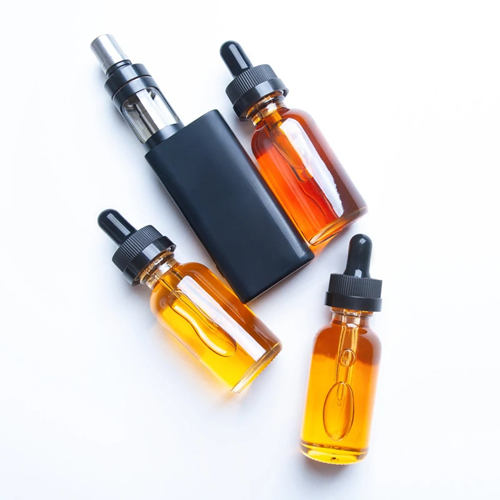 There are many types of e-liquid, which are usually divided into several main categories. If you are not familiar with e-cigarettes, it is best to understand what these are so that you can choose the right type for your e-cigarette kit or e-cigarette. More information about these will be shared below.
1.What's in e-liquid?
---
E-liquid, also known as "vape liquid" or "vape juice", is a liquid used in vape kits and e-cigarettes to generate flavor vapors.

This fluid is mainly composed of 4 ingredients;
1.Propylene glycol (PG):
2.Vegetable glycerin (VG):
3.Food-grade flavoring:
4.Nicotine.
There are also some e-liquids with zero nicotine content. Approximately 10% of the ingredients in vape juice are flavoring agents as well as nicotine and other food-grade products. The other 90% of products are PG or VG fluid, which is the medium for evaporating these ingredients for safe consumption.
(1) Propylene glycol (PG):
PG is one of the main components of e-liquid or e-cigarette juice. PG is an alcohol, and like VG, it is almost tasteless. It is added to food, medicine, and other products to keep it moisturized.
The PG in vape juice is a product that is easy to ingest, spread on the product, and use in vape juice. PG can also enhance the flavor and leave a stronger flavor at the back of the throat. The density of PG is much lower than that of VG, and it does not pose a health risk to humans.
Another use of PG is for antifreeze. Some people claim that electronic juice contains antifreeze. In fact, PG is only a small component in products such as antifreeze. PG is considered one of the most popular refills and consumer products.
Advantages: PG is generally safe for inhalation or swallowing. Only a small part of the population is negatively affected by the use of PG. According to the survey, about 0.8-3.5% of people are classified as allergic or sensitive to this additive. Therefore, if a liquid with a high PG content makes you feel uncomfortable, please switch to a liquid with a higher VG.
Disadvantages: Compared with VG, PG produces less visible vapor, so it is not suitable for large clouds.
(2)Vegetable glycerin (VG):
Many manufacturers use this product because it usually provides a larger and denser steam cloud, which is very popular among users.
VG is a completely non-toxic, colorless, and odorless liquid that can be safely inhaled. This is a completely plant-based product that can be processed from most fats. The glycerin used in e-liquid comes from vegetable oil, which is why it is called vegetable glycerin.
Many common products contain VG. It is used as a sweetener in the food industry and is also added to some foods to keep it moist. VG is also a component of many different types of drugs, and studies on long-term effects have been published.
VG is a relatively new material and relatively viscous. This means that high-concentration VG liquids do not work well in older atomizers and small transparent atomizers, so some manufacturers use glycerin aqueous solutions to solve this problem, basically just adding some water VG.
Advantages: can produce a lot of dense steam, will not affect human health and will not cause sore throat.
Disadvantages: Old and smaller atomizers may be blocked.
(3) Food-grade flavoring:
The deliciousness that can be found in every type of Vape juice comes from food quality ingredients. The base material of VG or PG does not have much flavor, but when mixed with some food additives, it can produce a strong flavor.
The industry is working to eliminate a series of additives that have been proven to be safe to eat but not inhalable. For example, Vape juice containing diacetyl is being withdrawn from the market. Flavoring agents account for a small part of e-cigarette juice, and flavoring agents are added to e-cigarette juice to create different styles. Food-safe flavoring agents can be combined to simulate flavors such as birthday cakes and biscuits.
(4) Nicotine
Most e-cigarette liquids contain nicotine. This is what makes e-cigarettes an effective alternative to smoking. You can satisfy your craving for nicotine without lighting the tobacco leaves. Nicotine can usually improve the taste of e-juice hitting your throat.
Although nicotine has a lot of bad publicity, it is actually a very safe drug. It was cigarette smoke, not nicotine, that caused the harm.
Nicotine can be considered a fairly safe drug. The extra smoke produced by cigarette burning tobacco is the culprit. E-cigarettes are less likely to have harmful effects, so it is still one of the safest ways to inhale nicotine.
2.How to choose the right e-liquid?
---
(1) Select PG/VG ratio:

Vape juices can usually contain different proportions of VG or PG. PG is not as sticky as VG and has little effect on flavor. Due to the thicker nature of VG, it usually provides a larger amount of steam cloud. On the other hand, VG may be sweeter and produce more residue.
When choosing the ideal ratio, it is important to consider that a small number of people are sometimes sensitive to PG. If you have an old evaporator or a smaller evaporator, you also need to consider avoiding the use of VG, because the atomizer may not be able to heat the liquid sufficiently and may cause damage to the equipment.
These will apply to kits and coils with a resistance of less than 1 ohm. These coils are usually used in e-cigarette kits designed for "sub-ohm" or "DTL" e-cigarettes.
These will apply to kits and coils with a resistance of more than 1 ohm. These coils are usually equipped with e-cigarettes designed for "classic" or "MTL" e-cigarettes.
The 50/50 vape liquid is suitable for most kits, tanks and coils. However, if your coil resistance is lower than 0.4 ohms, we recommend that you choose a higher VG e liquid.
(2) Nicotine content:
The amount of nicotine in vape juice will vary. It is easy to find the nicotine content, such as nicotine salt, the nicotine content is very high, as low as 0 mg nicotine-free version. It usually ranges from the nicotine salt with the highest nicotine content to a 3 mg dose.
There are intervals of 20mg, 18mg to 12 mg, which can help you slowly quit the product over time. You can try many types of nicotine content and gradually reduce the nicotine content.
Below is a table we created for nicotine dosage, VG/PG, and recommended vape types for Direct-to-Lung and Mouth-to-Lung users:
| | | | |
| --- | --- | --- | --- |
| Nicotine Strength | Most Likely VG/PG Ratio | Suitable For | Type of Tank |
| 0% (0MG) | Around 60VG/40PG or Higher VG | Nicotine free users | Usually for DTL |
| 0.3% (3MG) (Very Low) | Around 60VG/40PG or Higher VG | Around 5 cigarettes a day | Usually for DTL |
| 0.6% (6MG) (Low) | Around 60VG/40PG Some 50VG/50PG | Around 10 cigarettes a day | Great for both MTL & DTL |
| 1.2% (12MG) (Medium) | Around 50VG/50PG or Higher PG | Light tobacco smokers | Usually for MTL |
| 1.8% (18MG) (High) | Around 50VG/50PG or Higher PG | Heavy tobacco smokers | Usually for MTL |
| 2.0% (20MG) Nicotine Salt | Around 50VG/50PG or Higher PG | Heavy tobacco smokers | Usually for MTL |
3. How to choose the flavor of smoke oil?
---
If you are not familiar with e-cigarettes, we recommend that you use familiar flavors to make switching as smooth as possible. There are many different tobacco and menthol flavors to choose from, which is very suitable for smokers who transition to e-cigarettes.

If you still cannot choose e-liquid, please feel free to contact us. VAPIN focuses on OEM and ODM, your best choice for OEM and ODM factories. We provide a variety of flavors of e-liquid and vape pens, there is always one you like.