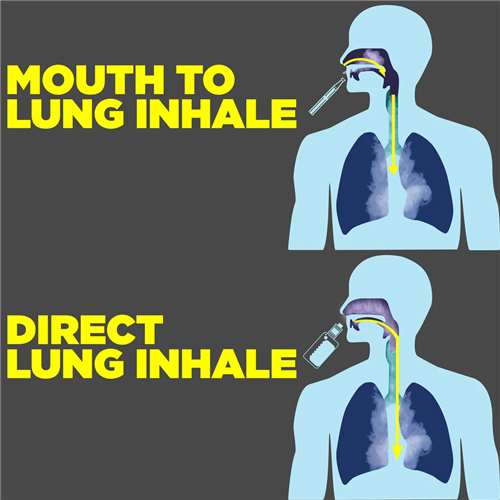 When buying e-cigarette kits and e-liquid, you will often hear the abbreviations MTL and DTL. Do you know what MTL and DTL mean? They refer to two different styles of e-cigarettes. When choosing e-cigarettes, understanding the differences in these e-cigarette styles will help you correctly choose and use e-cigarette kits.
1. What is MTL Vaping?
---
MTL means that when you inhale from an e-cigarette, inhale the vapor into your mouth for a while. Then suck it into the lungs. It is basically the same type of use as tobacco cigarettes.

2. What is DTL Vaping?
---
It is slightly more complicated to enter the lungs directly, which is why it is more popular with middle and advanced e-cigarette users. Inhaling e-cigarettes directly into the lungs involves inhaling vapor directly into the lungs without having to stop and hold it in the mouth.
3. To try the MTL vaping method:
---
Step 1: Drag it smoothly into your mouth. Avoid taking a short, sharp puff as you are used to when you smoke, but be sure to take a long puff.

Step 2: Leave the vapor in your mouth for a few seconds. When you do this, the vapor loses its effectiveness, thereby promoting a smoother lung experience.
Step 3: Next, while inhaling air, inhale vapor into the lungs.
Step 4: Exhale.
4. The following are the common features of MTL vaping:
---
Low-wattage equipment: less than 20 watts, not used for cloud chasing, which means it does not have high cloud yield.


Ultra-portable device: Compared with sub-ohm devices, the device is portable and has fewer functions, such as variable power or temperature control, due to the smaller battery size.

Tighter Draw: The mouthpiece is narrower, more tightly stretched, and it is closer to the mouth-to-lung device.

High resistance coil: The coil is greater than 1.0 ohm. A coil with high resistance will produce less steam.

High nicotine strength: Due to the lack of steam generation, the use of high nicotine strength (eg nicotine salt (25-50 mg)) is more effective.

Weak throat hits: Fewer cloud generation equals fewer throat hits. It makes linking vape easier.

More flavor: MTL vape has a higher flavor intensity because the steam stays in your mouth for longer.
Note:
(1)The impact on the throat can be adjusted by using higher nicotine strength, higher PG ratio, increasing wattage/temperature, and using specific flavors (such as pure menthol).
(2)The flavor intensity can be fine-tuned by adjusting the wattage/temperature setting, reducing the airflow of heating and concentrated smoke, coil type, higher PG ratio and electronic juice quality.
Examples of MTL e-cigarette devices
5. To Try the DTL vaping method:

---
Step 1: Drag slowly and steadily for about 3 to 5 seconds. Vigorous smoking is not encouraged here.

Step 2: Since this style does not require you to hold the steam in your mouth, let the steam enter your lungs directly.
Step 3: Exhale those huge smoke.
Avoid using e-cigarette juice with high nicotine content, because you will consume more e-cigarette juice during the DTL e-cigarette process. If you inhale too much nicotine while smoking e-cigarettes, you may end up with nicotine poisoning. Choosing nicotine-free e-liquid is a choice that will keep you away from addictive substances.
In addition, most e-cigarette users prefer high-VG e-liquids for DTL e-cigarettes because they are most suitable for generating large smoke.

6. The following are the common features of DTL vaping:
---
High-power devices: Increased power equals greater cloud production, resulting in higher e-liquid consumption. Tend to use a higher VG ratio to get a smoother throat impact and thicker clouds.


Larger devices: Due to the battery size, DTL devices are larger than MTL devices.


Sub-ohm coil: The coil is less than 1.0 ohm. A coil with a lower resistance will increase cloud production.


Airflow control: A larger mouthpiece, but the airflow can be adjusted to increase/decrease throat impact.


Intense Throat Hit: Higher wattage will produce larger clouds and warmer vape for a satisfactory throat hit.


Lower nicotine intensity: Due to the increase in power, high nicotine intensity is not required. DTL vaping only requires 3-6 mg of nicotine. Nicotine higher than 12 mg is not recommended.


Less flavor: DTL vaping results in less flavor because the steam enters the lungs directly. The more air that flows through the coil, the lower the vapor density, which results in less flavor but a larger cloud. However, higher flavor intensity can be obtained by adjusting the wattage/temperature setting, restricting the airflow, and different resistances in the test coil.

Note:
(1)Increase cloud production by using higher VG ratios, lower resistance coils, increasing airflow and wattage.
(2)Throat impact can be adjusted by increasing the wattage/temperature to get a warmer vape, reduce airflow.

Example of DTL inhalation device
7. Pros and cons of MTL Vaping and DTL Vaping:
---



MTL

DTL

Pros

Less e-juice consumption

Appreciable Cloud Production

High nicotine strength

Intense Flavor

Convenient to carry around

Strong throat hit

Mimics smoking experience

Longer battery life

Fast Charging

Advanced features to personalize your experience

User-friendly devices




Cons

Weaker throat hit

Bulky device

Shorter battery life

Longer learning curve to understand the features

Fewer features

Higher e-juice consumption
8. MTL or DTL, which one is right for you?
---
New e-cigarette users usually choose MTL vape kit for the following three reasons:
(1)Simplicity: The user-friendliness of the device makes the transition from smoking to e-cigarette smoking more natural.
(2)High nicotine intensity: Experts recommend that heavy smokers consume 50 mg of nicotine.
(3)Inhale from mouth to lung: similar to how you inhale a cigarette.
There are several reasons for choosing DTL vape kit:
(1)Ideal cloud chaser and those who want to use equipment to achieve the best flavor.
(2)A device with airflow control and variable power allows you to create an MTL experience.
(3)Due to the more pronounced smoke production, a lower nicotine intensity is used. More smoke = more nicotine consumption.
No matter which vaping method you choose, it will depend on your personal preference. I hope you will be more aware of the difference between MTL and DTL e-cigarette methods. Understanding the difference between MTL and DTL will guide you to choose the right device!
VAPIN focuses on OEM and ODM, your best choice for OEM and ODM factories. We provide many types and flavors of electronic cigarette pens, and there is always a product you like. If you have any questions, please feel free to contact us.
Edited by Zayn