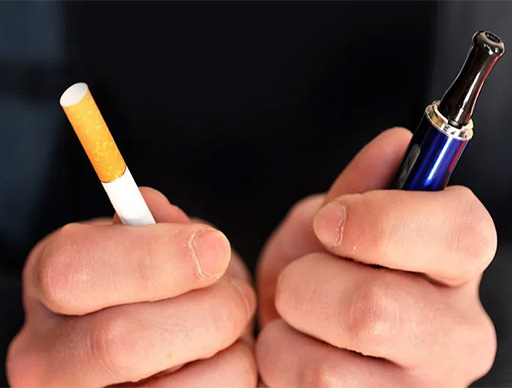 From 2010 to 2014, the world's e-cigarette sales exploded. Oxford Dictionaries of the United Kingdom selects the word of the year every year. The word of the year for 2014 was "vape," or electronic cigarette.

So, what exactly is e-cigarette and is it harmful? Are e-cigarettes more harmful than cigarettes?
The conclusion is that e-cigarettes are harmful, but less harmful than cigarettes. There is still controversy over whether e-cigarettes can quit smoking. you may have seen from internet some businesses man turn electronic cigarettes into medicines, claiming that electronic cigarettes are "healthy and harmless" and "clear the lungs and detoxify".
You may have also seen some other Chinese popular science articles, all kinds of hazards of electronic cigarettes, and some even declared: "The cancer rate of electronic cigarettes is 7 times higher than that of cigarettes!"
Are e-cigarettes more harmful than traditional cigarettes?
To answer these two questions, we must first briefly understand the structure of electronic cigarettes. Electronic cigarettes are generally divided into two major categories: electronic atomizers and nicotine-containing liquids (e-liquids). These two parts are similar to the relationship between pen and ink, syringe and medicine.
The principle of electronic cigarettes is to atomize the e-liquid to form nicotine smoke, and the smoker inhales the smoke into the body like smoking. This item is also called a "vape" in English and is sometimes called an electronic atomizer.
The CDC's assessment of e-cigarettes is that e-cigarettes are a novelty, and the health effects of long-term use are unknown. Therefore, vaping is not completely harmless to health.E-cigarettes often contain nicotine, which is detrimental to the development of the fetus and the cognitive development of young people under the age of 25. Some studies have also said that e-cigarettes increase the risk of heart disease and cancer.However, although e-cigarettes are not as "completely harmless" as some businesses claim, they are far less harmful than traditional cigarettes.
After weighing the pros and cons, public agencies in the UK and the US tend to believe that e-cigarettes are still better than cigarettes for smokers.
In 2015, Public Health England (PHE) released a 113-page report that analyzed the various risks of e-cigarettes in detail. The report concluded that e-cigarettes are 95% safer than smoking, and policies should encourage smokers to use e-cigarettes. As an important tobacco control strategy to reduce the harm caused by smoking. Note that "smokers" are encouraged.Despite multiple skepticism, Public Health England in 2018 insisted that e-cigarettes are 95% safer than smoking.
In February 2018, the American Cancer Society (ACS) also issued a position statement: Although the long-term effects of e-cigarette use are not yet clear, it can be expected to be less harmful than regular cigarettes. The association's attitude clearly encourages people to try electronic cigarettes instead of traditional cigarettes. The association also recommends that clinicians recommend e-cigarettes to smokers as an alternative to traditional cigarettes. Of course, e-cigarettes are only a transitional condition and quitting smoking should always be the first option.
In November 2018, the US Centers for Disease Control and Prevention (CDC) also revealed its attitude to the public. It recommends people who already smoke to switch to e-cigarettes and try to quit smoking. But it also reminds that e-cigarettes are not harmless. Teenagers and pregnant women, as well as non-smokers, should not try it because it is less harmful than cigarettes.
Can e-cigarettes really help you quit smoking?
At first glance, e-cigarettes and nicotine replacements are similar. Nicotine replacement is a general term for some smoking cessation products, which are mainly used in nicotine replacement therapy (NRT). The nicotine in cigarettes is an addictive substance. When quitting smoking, people will have withdrawal reactions and people will feel uncomfortable, so they give up smoking cessation.
Nicotine patches are a proven smoking cessation tool. If you use nicotine patches, nicotine gum or nicotine sprays to deliver nicotine into the blood when quitting smoking, you can ease the withdrawal reaction of smoking cessation and improve the success rate of smoking cessation.
In 1996, the World Health Organization (WHO) officially recommended nicotine replacement therapy to various countries. The FDA has also approved at least 4 legal nicotine replacements to aid smoking cessation.E-cigarettes can also play such a role. In fact, WHO calls e-cigarettes "electronic nicotine delivery systems" and examines them together with other nicotine substitutes.
From 2011 to 2017, smoking rates in the UK fell overall, and Public Health England believes that e-cigarettes have contributed.
The situation in the UK is more optimistic. In 2018, the British Department of Public Health published a blog saying that, at least in the UK, e-cigarettes can help people quit smoking. More than half of the 2.9 million e-cigarette users in the UK have completely quit smoking, and e-cigarettes are expected to help 20,000 people quit smoking every year. With the promotion of e-cigarettes, the smoking rate in the UK has dropped year by year, reaching a record low of 15.5%, which is only higher than Sweden in the whole of Europe.
Should e-cigarettes be banned?

In December 2018, Public Health England released a short video showing people that e-cigarettes are less harmful than traditional cigarettes. We call on the public not to choose to continue smoking instead of trying e-cigarettes because of the misconception that e-cigarettes are similar to cigarettes.
Therefore, the advice given by VAPIN is: if you are an old smoker who has failed many times to quit smoking, e-cigarettes will be an ideal smoking cessation solution; but if you have never smoked, it is recommended not to try e-cigarettes.
VAPIN is a OEM&ODM factory specializing in the production of vape pen , and there are a variety of flavors and nicotine vape pens for you to choose from. Click here to acquire more info!